Rachel Hursey (and Suz West) report from the London Marathon 2018:
Running for Mind
This time last year I watched the BBC documentary Mind over Marathon; I'm sure that many of you will have seen it. It was a beautiful and moving documentary that followed the training of ten runners with mental health problems as they prepared for the 2017 London Marathon. I was hugely touched by the stories, and how brave they were in publically discussing their mental health difficulties. I knew at this point that I wanted to run the London Marathon the following year, and that I wanted to do it for Mind.
Since joining the beginners' course at BvH 2 years' ago running has really helped my mental health, and I've definitely benefited from the endorphins; I was very keen to encourage others to consider the connection between physical health and psychological health. I am a secondary school teacher, and a year 11 form tutor, and I'm all too aware of the increasing pressure that is put on young people as GCSEs approach. My aim was to encourage the students at my school to realise that it's okay to take risks and that it can be very rewarding to work at something out of your comfort zone. It's always the boys in my school that run around and are active at break and lunchtime – girls tend to sit and chat – I liked the idea of breaking a few stereotypes. I started off with RED January (Run Everyday in January) from this I realised that:  a. I am not very good at early mornings b. January is a very long month c. I am very determined as I managed it.
Training
I certainly chose an interesting year weather-wise for the challenge! With the help of Nic Sykes, for which I am very grateful, I had a very carefully crafted training plan, but with the postponed Warwick Half ended up running a half marathon 2 days before on my snow day in early March. I'd never run in so many layers before. The Beast from the East returned in time for Ashby 20 in late March, so I ended up running the 20 miles on my own on a Friday night before the snow was due to arrive. It was a crazy thing to do really but it felt exciting "beating" the weather. My final 20 mile run was on Good Friday morning and it felt fun to finish with the Yacht Handicap dressed as a bunny. I was pretty confident in guessing our time as I had just run the previous 17 miles at that pace! I also had some lovely training runs with Mathilde and Lorna. With Mathilde, however, we did spend most of one run calculating our exact mileage though as she had done 1 mile when we met and I had done 5; it's good neither of us teach Maths. Lorna saw me at my most confused and tired after 15 miles when I went round and round and round a supermarket looking for water. Most my runs on my own had me puzzling numbers and pacing in my head.
More than a race
Throughout my training it was great to have the opportunity to talk to my students about what I was doing. Mind was made a house charity for my form's house, and I was able to take assemblies about the connection between mental and physical health. It was overwhelming that the school helped me to raise over £1k for Mind. We had a non-uniform day and my form particularly were fantastic in running a variety of money making schemes such as washing staff cars, selling hot chocolate and marshmallows, and film showings with popcorn for younger students.
I led the school to mark "Time to Change Day" at the start of February and this was a great opportunity to raise the profile of mental health to all year groups. The students were so interested in my running and many of them and their families decided to track me on the day. I'm excited that several of them have told me since the run that they would like to complete a marathon too. One of my form group recently lost her Mum to Cancer and will be completing a Race for Life in her memory at the start of July. Running has so much power to bring together people at the most terrible times. Staff were amazing too, and one of them even organised a competition to see who could walk from my school to London first. My friends and family, and of course BvH, were also hugely supportive and at the moment my fundraising total stands at just under £3,5K. This was way beyond my expectations and even thinking about it now makes me quite emotional. For me this made the run so much more than a race.
Preparation
As Marathon day approached it became clear that it was going to be a lovely day for a picnic, ice-cream or a little walk but maybe not the best day for running 26.2 miles. I am obsessed by the weather anyway but despite checking every 5 minutes for the week or so before the race there was little change from this. But I was prepared. From Thursday onwards blackcurrants quash became my friend along with re-hydration tablets and crisps. As my school is a Catholic school I had a blessing prayed over me the Friday before which was very uplifting. My school could not have been more supportive or interested.
My brother lives in Earlsfield, London. My husband, Mum and I went up and stayed with him and his family on Friday night. My three little nieces were fascinated by the whole thing – and they started calling me Aunty Marathon. My Mum was also interested if slightly bemused. I think it must be strange for parents if their children develop an interest that they had never foreseen. As a child I had no real interest in sports at all but my family were definitely aware now of my new, exciting obsession. My close friend, Rachel, who had run the London Marathon 7 years previously, also came up and that was great. They spent the whole of Friday night and Saturday telling me that my time didn't matter I just needed to look after myself. Of course they were right.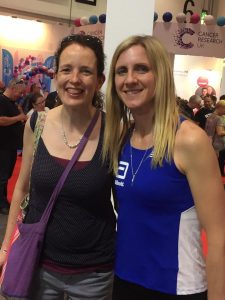 On Saturday, I went over to Excel for the London Marathon Expo. For those of you that haven't been it's a bustling place full of runners and their families where you need to go to collect your race number and try and get as many free things as possible. I met a friend from when I was at school and we were round it together. She couldn't quite believe that I'd progressed from running school cross country in our hideous brown and yellow striped PE knickers to this. I was excited to meet Liz Yelling there and get a signed picture, and also hear Selasi from the Great British Bake off speak. Sadly there was no sign of Mary Berry.  Afterwards I met Rachel and another close friend Sarah and sat and chatted at a café overlooking the Southbank. Sarah was up as her husband was running and she was planning to watch with her Dad the next day.
Getting there
On the day I woke at 6am, had my normal porridge but this time with two eggs in it rather than one, kept drinking the quash, got ready, and made my way to the train station. I'd worried about getting there okay as I have a terrible sense of direction but it was fine as everyone was going the same way. It was an unusual morning as people talked to each other and gave each other eye contact. I met an experienced runner who quickly put me at ease and I cheerfully followed her to Greenwich.
The marathon is a slickly oiled machine, and after applying my plus 50 sun cream I left my bag on the right lorry, and used the toilet a ridiculous number of times. I had two bananas; I love bananas. I'd worked out with my family where to meet them, and I was also looking forward to seeing the BvH supporting crew and my friends. On my hand I had people that I was going to think about each mile – I wanted to keep up the focus on mental health.
As it approached 9.30am I made my way to my starting pen 2 and found a bit of shade and another Mind runner to chat to. It seems no time until I saw the Queen on the big screen pressing the red button to start the race and my pen began to edge forward. Even so, I could not believe that this was actually happening to me. That I was about to run the London Marathon. I had been counting the days for so long.
The race
Everyone advises not to go too fast at the start and so I stuck to a pace that I knew would be able to get me sub 3.45. The first 5 miles were fine but then it felt hard. It was so hot and I knew that I was struggling too much for the very start of the race. Unbelievably (considering there are 40,000 plus runners) I glimpsed Suz in front me. She had started from Blackheath rather than Greenwich. She was finding it challenging too and so before long we decided that we would run together. From that point my focus shifted and it was my new mission to enjoy myself as much as possible rather than break myself with a good time. At this point someone was giving out ice lollies so we walked for a bit as we enjoyed one as a reward.
We saw my family and Rachel at 8 miles. They had a smiley face helium balloon which made them fairly easy to see.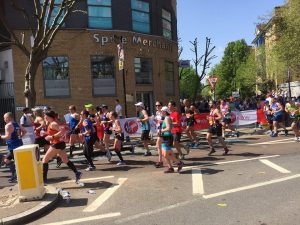 (This is a top tip if you don't want to miss someone!) I was still really hot and so we stopped quickly and I drank all Rachel's water and gave her my visor which was just getting in the way. What are friend's for anyway?! Suz re-assured them, and said that she would stick with me. We then were caught up by Marion from Birchfield Harriers; her daughter was trying to get sub 4 to break the world record as a construction worker. We were also passed by a tree and at very end of the race Darth Vader. Because of the weather there might well have been fewer fancy dress runners than normal.
Getting to Tower Bridge just before the half way point was incredible. The crowds were busy all the way round but particularly here and on the last three miles of the course. This is an emotional location for Suz as her Dad's ashes are scattered there. It was good to take it all in. We also spotted a film crew and tried, unsuccessfully I think, to get on TV. As our journey continued there were constant shouts of Suz and Rachel and it was great that everyone could see that we were doing it together. I saw my friend Sarah and her Dad shortly after this and gave them a massive thumbs up. We decided at this point that we could be the new Ant and Dec. This idea still makes me laugh.
Mile 15 marked the first sighting of the BvH crew. It was a real highlight, and we had some great hugs. This is also when John took his one photo from the Marathon! It was a really hot by now and when we weren't drinking water we were throwing it over ourselves or running through the official or fire brigade showers. We worked together to keep ourselves going but by now we were running then walking, running then walking. For me it was reminiscent of how I'd started running on the Beginners' course. This seemed very appropriate as I was running with Suz who had been the main leader for the last couple of years.
We got to see my husband for the first time at this point. It was fantastic to see him, and it gave me some more energy. Soon afterwards we came across a collapsed young runner called Tom. He had terrible cramp and we did what we could to help until St John's Ambulance arrived. He was in a lot of pain and I found out later that he didn't get to finish the race.
We ran on and Suz took the opportunity at 21 miles to have a small beer offered to her on tray. She got quite a cheer as she downed it! There were so many little offerings on the route ranging from the traditional jelly babies and Haribo to oranges, apples and even crisps. Suz developed real cravings for Oranges but I was happier with the jelly babies. The signs were fantastic too such as "There's a cold beer waiting for you at the finish line", "Marathon runners are sexy" and  "Hit this sign for energy". They all made me smile. By this point we were really working the crowds, encouraging them to shout more loudly, and when people shouted for us I shouted back. It was also great to see the BvH crew and my family again. My husband had a selection of drinks and some biscuits for me but I could only manage a zip of lemon squash.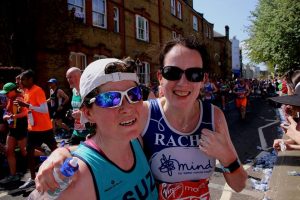 My best shout was a very kind lady, and a good liar, who said I looked stunning at 23 miles. I think I told her that I loved her. We knew at this point we only had a parkrun left. I remember saying to Suz again and again how amazing it was. There were layers of supporters at least 5 people deep making a wall of noise just for us. Definitely the closest I'll get to being a celebrity. When we got to mile 25, the last mile down the Mall, the noise was deafening. So much so that we didn't hear Suzanne and Clare's shouts of BvH and they are pretty loud. We decided that we would run to the end.  We were enjoying every single second in the boiling sun.
After a very eventful 4 hours and three quarters we crossed the line holding hands and had finished. I couldn't quite believe that I had managed to survive my first marathon and that I was part of the 1% of the population that had done exactly that. I was so lucky to meet Suz and it was a complete privilege to share the experience with her.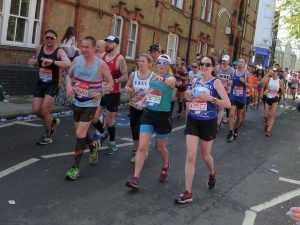 Afterwards
As soon as I had finished I met my family at the letter R in the meet up zone and we went to the Mind reception. It was a lovely occasion, and so uplifting to be part of the 900 plus runners that had run for Mind that day in order to fundraise and increase the profile on mental health.
With great sadness I learnt of the death of Matt Campbell, the Master Chef finalist, at mile 21.5. I think Suz and might have run past the area he collapsed and a part of the course was corded off when we got there.  I just completed the marathon for him by running 3.7 miles in my finisher's T-shirt and felt very emotional. I am so grateful that BvH took me from being on the Beginners' course to completing the best marathon in the world.
Finally, the words of Kathrine Switzer, the first woman to run the Boston Marathon as a numbered entry, ring true: "If you are losing faith in human nature go out and watch a marathon". Equally, you could go out and run one yourself!
| | |
| --- | --- |
| Name | Time |
| Stephanie Coates | 04:50:16 |
| Paul Coughlan | 03:20:26 |
| James Drakeford | 03:45:05 |
| Jude Glynn | 04:27:06 |
| Linda Goley | 06:23:52 |
| Mark Hobbs | 02:38:32 |
| Rachel Hursey | 04:44:47 |
| Ian Mackenzie | 03:32:07 |
| John McKeon | 03:33:36 |
| Nicola Morris | 03:56:22 |
| Sharon Newman | 05:21:20 |
| Sarah Rock-Webster | 05:13:38 |
| Richard Rollins | 03:53:05 |
| Nicola Tautscher | 04:18:46 |
| Suz West | 04:45:16 |
| Simeon Whiting | 03:59:21 |