Our Ladies cross country team captain, Sarah Rock, encourages as many BvH Ladies to come and have a go at the Midland Women's League race on 12th November at Newbold Comyn, Leamington Spa.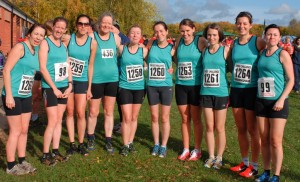 The BvH Ladies XC team traditionally enjoys a very special camaraderie and team spirit which is the envy of the most clubs taking part in the League.
Sarah writes:  The first Ladies XC League race (of four) is on Saturday 12th November at Leamington which is also the same venue for the BvH Men in the Men's Birmingham & District XC League.    The course at Leamington is probably one of the flatter races and a nice introduction if you would like to come and race for the first time – there is no obligation to do more races if you find it is not for you!  I am, however, expecting to have over 20 ladies running for BvH so you'll be in lots of company.
It would also be really great to be able to finish a vets (35+) team this season – this means we need at least three vets to finish in each of the 4 league races, so please come along and give it a go!
I have attached a general information sheet about cross country so you can see what its all about.  In terms of training, there is no obligation to come to the training sessions at Cofton on a Saturday morning (but it helps to give you confidence and to build stamina!).  The Club will be holding a 'taster'/beginner session on Saturday 17th November espeically aimed at those coming along for the first time.
Please can you let me know if.. :
1) You want to run?
2) You can drive/need a lift/want to make your own way there?
3) You are a vegetarian or vegan (for the goody bags!)?
Please email me
I have also attached some info about the first race :-
BvH Ladies XCountry FAQs – 2011
Race Course Map of Newbold Comyn
Please feel free to pass this message onto all Ladies at the Club.
Thanks very much,
Sarah Rock
(PS –  if anyone wants to come and try and needs a pair of trail shoes to run in, I have an older pair someone could borrow – size 5.5)