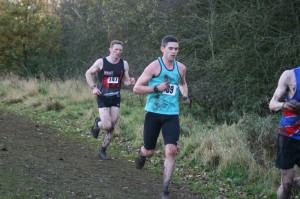 Bournville Harriers men's team had a tough introduction to the new
cross country season at Leamington on Saturday missing a number of
their 'faster' runners due to injury, illness and international
call-ups (well done to Orlando on his excellent performance in Ireland
running for England Masters M35 team). A number of our runners were
returning from injury, and therefore short of training for the first
race, but all gave their best. Special mention to Sam Chatwin who
decided to race despite suffering from a heavy cold and an on-going
injury.
Looking through the results and listening to our supporters afterwards
it seems that there was a particularly strong University presence from
the Loughborough and Birmingham teams which front loaded the quality
of the field. This had a significant impact on our team on the day as
we were unable to get any finishers into the top 30 or 40 and
consequently lost vital points in the team competition. There are
still 3 races to go and I'm confident we can recover from this start
and as a minimum ensure we retain our Division 1 status by the end of
the season.
The 'A' team finished 16th (sounds better than last), and the 'B' team
8th in the respective competitions. Paul Thompson led the 'A' team
home in 73rd, followed by Matt Cook (85th), Rob Andrew (99th), Brad
Todd (140th), Gareth Cadd (142nd) and Sean Rose (146th).
Congratulations to Brad for his first finish in the 'A' team at in the
league.
The 'B' team was led home by Chris Tarren (153rd) in his first cross
country race, Sam Chatwin ran bravely to finish 157th (bad cold and
injury), Stuart Pearson 169th, Jonathan Hammond 206th, Andy Wheeler
208th and chairman Chris Harlan-Marks 230th. Again all ran hard and it
showed our strength in depth to finish 8th.
There is no 'C' team competition, but we had enough runners to form
such a team. Daniel Wilson was 240th, Leigh Church on his return to
cross country was 251st, Jack Roberts 264th, Graem Beavers on his
debut 277th, Mark Doudican 285th and another debutant Anthony Stewart
292nd.
Despite the diappointing result we should be pleased so many still
represented the club, and many thanks to the excellent support from
our regulars and also the ladies team who stayed on to cheer us after
their earlier race.
We are hosting the next race at Cofton on December 1st. I'm hoping we
can once again use this race to showcase our club's spirit with
volunteers turning up  to marsall the course and provide support, and
an improved team result in the race itself. Hopefully in the next race
report I'll be able to celebrate both those aspects.