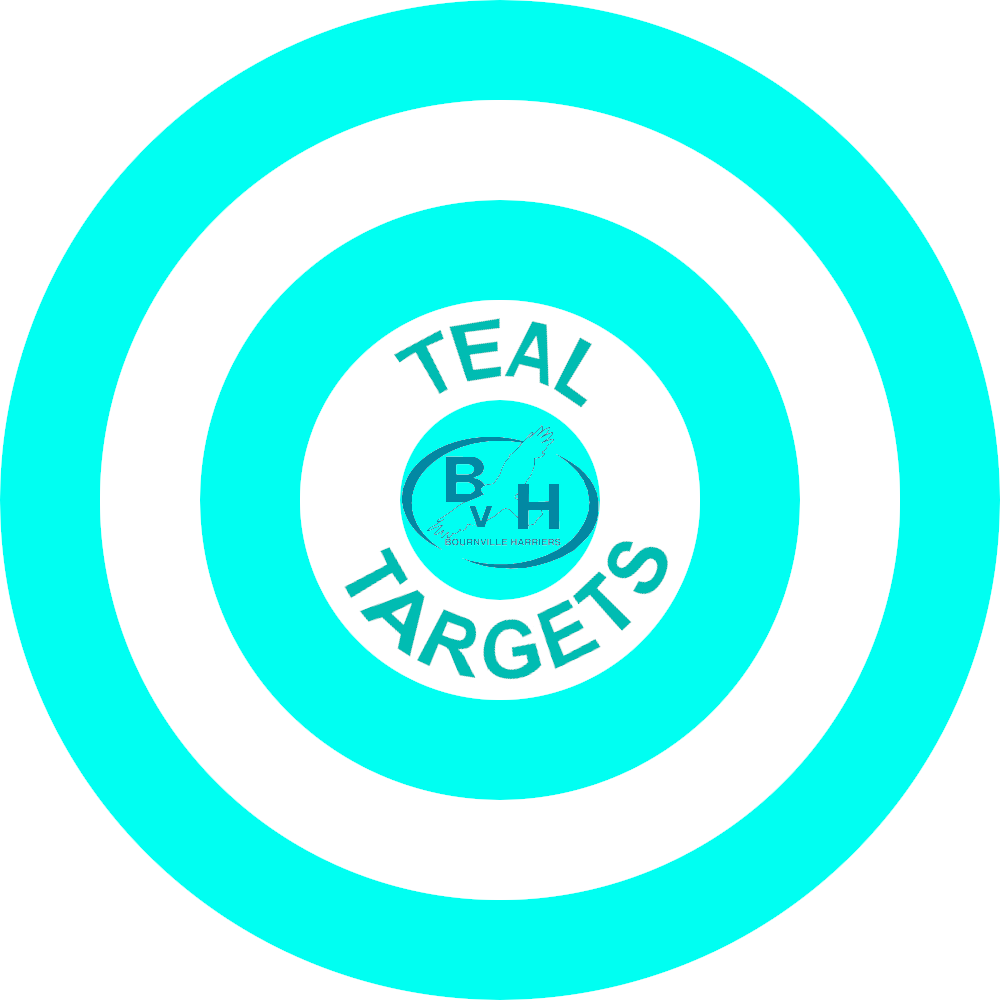 The Teal Targets comprise 12 races across the year, 1 per month, where you can score points for your performance, as determined by RunBritainRankings.
You can take part in any number of Teal Target races, from just 1 to all 12. All BvH members taking part in any Teal Target race will have their Run Britain Rankings performance scores compared for that race, and will be ranked in order. You then earn Teal Target points for your position in that order.
Your performance score on Run Britain Rankings is relative to your own ability. So it doesn't matter if you're a front runner or not, you all have a fair chance of scoring well. What matters is whether you are in good form for that race!
Over the year, anyone completing 6 or more Teal Targets will have points from their best 6 races aggregated. Then an overall winner for the year will be determined.
All members completing 6 races or more will receive a memento, at The Tealies awards in March 2024. Also, each Teal Target race winner will also receive a memento.
Race scoring and eligibility
You must be a BvH member
It is a requirement that you have a valid Run Britain Rankings score prior to the individual race in question, for your score in any Teal Target race to count. This usually requires that you have completed a minimum of 5 licensed races over that previous 12 months. Due to a pandemic effected 2021, we shall endeavour to work around this.
All UKA licensed races (since approx. 2010) are visible in Run Britain Rankings. If any of the races in your history are not showing up as belonging to you, create an account with them, find that race result in the system, and then click the envelope next to your name. This begins the process of attributing the result to yourself.
Races
April 10th – Midlands Road Relays, Sutton Park
Saturday May 6th – John Enright parkrun*, Cannon Hill Park
Sunday June 18th 10:30am – Arden 9, Hampton-In-Arden (£12 affiliated club members)
Saturday July 15th 6pm – Timberhonger 5K or 10k (£18/£20)
Wednesday August 16th 7:30pm – Clent, trail race part of Worcester Midweek Series (£8 entry on the night)
Sunday 10th September – Kenilworth Half Marathon or 5K
Sunday 8th October – The Almost 8, Stourport
Sunday 5th November – N.I.C.E. 10K, Cannon Hill Park, Birmingham
Sunday 17th December – Wolves Winter Warmer (Turkey Trot)
Saturday 13th January – XC League Race 3, Warley Woods (women) / Pelsall North Common (men)
Sunday 4th February – Stourbridge Stagger– 7k or 10 miles
*The John Enright parkrun is an annual friendly competition between ourselves and neighbours Kings Heath RC, at Cannon Hill parkrun, in memory of John Enright. In that individual instance, your parkrun club should be assigned as Bournville Harriers, in order to count for that particular competition. Your result will count towards the Teal Target score, providing you are a Bournville Harriers member.