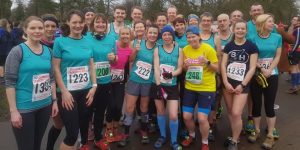 The Teal Targets series is designed to bring BvH runners together at a race once each month and to reward participation and performance relative to your own ability. Each race a great opportunity to meet other Harriers, win individual and team prizes, support other races and promote the club; the series uses your Run Britain handicap and vSSS score to determine a winner for each race and overall series winners, presented at the club's Awards Night (The Tealies) at the end of the year.
Travel, warm up and race as a team which is fun and inspiring
Meet more people in the club
Good club turnout helps to promote the club
More chance of winning team prizes
Try races you wouldn't have done otherwise
Supporting other local clubs who put on races
Opportunities for pub lunches or cafes after races!
We know we can't possibly capture everybody's favourite race but we try to put together a selection of races to target which will provide something for everyone – the chance for pbs (personal bests) and pbs (pub beverages), road, multi-terrain, local races, a chance to try something new etc. etc.
2020/21 Teal Targets: