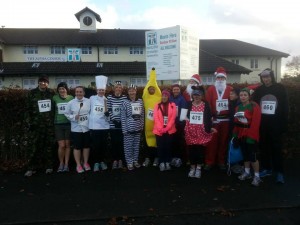 Freezing cold rain, high winds and cold temperatures could not stop some very determined BvH members turning up for the yacht Handicap this year. This members-only event had a great atmosphere and was a lot of fun to take part in.
The marshals were fantastic, standing in the freezing conditions to cheer everyone on. The great atmosphere was made even better by the awesome costumes worn by the runners during the race. There were escaped convicts, chefs, elves, santas, commandos, Disney characters, a monkey, a banana, a reindeer, a fairy and a few people even dressed up as runners! 😉 It all made for a really fun race, followed by some well deserved drinks and the chance to warm up in the bar after.
The Yacht handicap is not your typical race, as the winning team is decided by who came closest to their combined predicted times.
RESULTS
| | | | | | |
| --- | --- | --- | --- | --- | --- |
| Team Name | Runner 1 | Runner 2 | Total time | Predicted time | Difference |
| Tinned Santa | Alan Orr | Keith Elliot | 1h 26m 30s | 1h 28m 0s | 0h 1m 30s |
| Got the Runs | Nicola McKeon | Richard Rollins | 1h 16m 13s | 1h 18m 0s | 0h 1m 47s |
| Two Many Cooks | Stacey Marston | Heather Cowan | 1h 5m 15s | 1h 10m 0s | 0h 4m 45s |
| Sebastian Slow and Smaller Radcliffe Go "Commando" | Paul Gorman | Laura Leslie | 0h 52m 34s | 0h 57m 30s | 0h 4m 56s |
| The Crokes | Jane Croke | Alec Croke | 1h 26m 54s | 1h 32m 40s | 0h 5m 46s |
| Santas Little Helpers | Suz West | Jude Glynn | 1h 4m 10s | 1h 10m 0s | 0h 5m 50s |
| French Connection | Tony Hall | Ian Edginton | 0h 56m 7s | 1h 2m 0s | 0h 5m 53s |
| Jungle Boys | Simon Newman | James Gittins | 0h 55m 32s | 1h 2m 0s | 0h 6m 28s |
| M&B | Barrie Roberts | Minnie Barratt | 1h 9m 31s | 1h 18m 0s | 0h 8m 29s |
| The Jail Birds | Nicola Morris | Phil Williamson | 1h 11m 29s | 1h 20m 0s | 0h 8m 31s |
| KC & the sunshine band | Chris Jenkins | Katie Roberts | 1h 20m 44s | 1h 33m 6s | 0h 12m 22s |
| Team M&M | Martin Foster | Marie Foster | 1h 13m 22s | 1h 29m 0s | 0h 15m 38s |
Best costume prize: Santas Little Helpers
Best team name: Sebastian Slow and Smaller Radcliffe Go 'Commando'
Full results here –Yacht Handicap