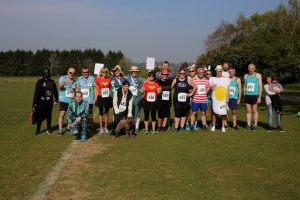 Stacey Marston reports: A long time ago, in a galaxy far, far away… well, actually, just yesterday on Rowheath Playing fields, the Annual BvH Yacht Handicap Race took place and unusually we were blessed with sunshine and blue skies. The race is a test of pacing skills, with runners leaving their watch behind and aiming to predict their time over the 5km course. With optional Fancy Dress and prizes for individuals and teams, there are plenty of opportunities to win, but for once, faster running does not guarantee success!
Dave Powner was directing the proceedings in his trademark 'loud' teal suit, ably supported by Tom Bunn, Josh & Emma Hopkins, Toni Crowton (plus Alfie & George), Ali Price (with 'Mini'), Kristy Mabbett, Jim Clarke, Phillip House, Daisy Olsen (capturing proceedings for Teal TV) and Pete Hickman (who took the fantastic photos shown in this report).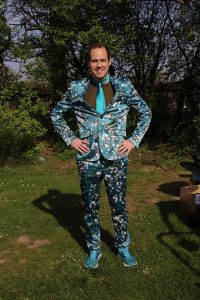 Gathering before the run we had the opportunity to admire the costumes, featuring Easter Bunnies, Wonder Women, Wally (in case anyone was looking for him), Mr Egg, The Chuckle Brothers, Luke Skywalker, Chewbacca and Darth Vader, and a couple of Suffragettes. In keeping with tradition we started with a warm-up which certainly attracted the attention of the other park users, including a 'Macarena/Saturday Night' style dance routine and aimless run around the park (just a normal Friday morning in Bournville, then!)
At around 10 o'clock (although who knows, we were all watchless and confused), we set off along Heath Road to begin the first of the two laps, to much cheering and cowbell ringing and the bemused looks of anyone passing by. Clare and I got into character and chanted 'Votes for Women' and 'Deeds Not Words' and occasionally burst into a verse of our theme tune: 'Well done, Sister Suffragette!' (although obviously only on the downhill easy sections). Surprisingly, running in a dress was not as difficult as I anticipated, proof if there was any doubt that my stride length is woefully short, but my handbag was proving to be a bit of a hindrance. That said on a very warm April morning, Alan West's costume must have been getting a bit hot and Ian Mackenzie's Egg was sizzling.
Clare and I both found our pace pretty difficult and thought that if anything we were probably a bit quick, but the costumes (and maybe the singing) must have held us back more than we thought. We really enjoyed the support on the way round and the smiles of people we passed going through the park but we had no idea where we had come. Everyone was cheered in at the end and we all collected a chocolate bunny sharing our race number whilst speculating on our time and who would win the prizes. The Yacht Handicap mugs are collectors items, and I'd been quite envious when Guy & Mike came a close second to Mathilde & Rachel last year, winning exclusive mugs… so the house honours were at stake, with both of us in it to win it.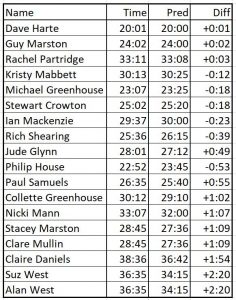 First, Dave announced the individual prizes (for closest to their predicted times); Nicki Mann was third, Jude Glynn second and Kristy Mabbett (just 12 seconds off her prediction) first for the women. For the men, it was third place for Richard Shearing, second for Ian Mackenzie and first for Dave Harte who was also the fastest on the day and incredibly was just 1 second off his predicted time! Then it was on to the Team Prizes; The Claire Bear Bunch (Stewart Crowton and Claire Daniels) came third; the 'Walking Wounded' AKA Rachel Partridge and Collette Greenhouse, were in second place; I couldn't have been happier as it was an incredible achievement for them both to run so well. The tension was building, but of course, 'The Chuckle Brothers', Guy Marston and Mike Greenhouse took the win! Looking at the results the accuracy was very impressive with 11 runners getting within a minute of their prediction and Rachel, Guy and Dave just seconds out.
Last, but not least, the prize for Fancy Dress was awarded, and this was my last chance to take home a sought-after Yacht Handicap mug. The competition was fierce; Suz and Alan West were so deserving, but, let's face it, Poppy was the real star of team 'Let the Wookie win!' and of course they had The Force on their side too. Thankfully, Dave and Tom saw the sense in not upsetting two militant members of the Women's Suffrage Movement and so the 'Sister Suffragettes' shared the chocolatey spoils and mugs with the Star Wars crew!
All in all the Yacht Handicap was a great event, celebrating the four BvH values – Performance, Participation, Encouragement and Enjoyment (and a bit of the unofficial fifth value; Chocolate, too!)