XC highlights after league race four:
BvH Men take Division 2 title and earn promotion!
Women finish 8th out of 34 teams!
Women's masters team finishes 7th out of 18 teams!
Nicola Sykes finishes 1st in race four and 2nd overall in the league!
Dean Parker finishes 7th in race four!
BvH women's results for league race four:
1 24.30 Nicola Sykes
47 28.35 Linda Howell
59 29.29 Marianne Hensman
62 29.34 Sarah Rock
70 29.59 Laura Leslie
97 31.24 Laura Gale
127 33.37 Jude Glynn
136 34.38 Nicola Cumley
163 37.02 Lesley Pymm
Full women's results – click here
_____________________
BvH men's results for race four:
7 40:05 Dean Parker
14 40:54 Matt Cook
21 41:52 Paul Thompson
37 43:17 Chris Collins
45 43:43 Sam Chatwin
48 43:58 Matt Sandison
52 44:10 John McKeon
67 44:40 Richard Bayliss
77 45:06 Chris Tarren
85 45:38 Oliver Kirkland
94 46:15 Brad Todd
95 46:17 James Collins
103 46:38 Richard Rollins
127 47:47 Stuart Pearson
164 50:04 Matt Slater
226 55:30 John Enright
254 62:06 Barrie Roberts
Full men's results – click here
_____________________
Click the image below to see the men's league table: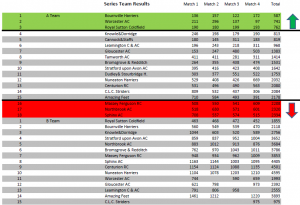 Click the image below to see the women's league table: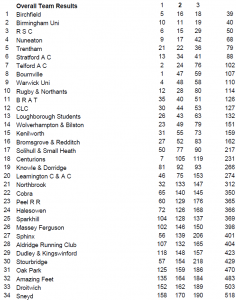 Click the image below to see the women's masters league table: