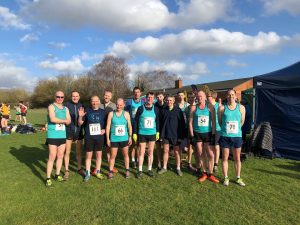 The final race of the cross country league season saw both men's and women's teams in the same location, Newbold Comyn, Leamington and perfect, if unusually sunny, XC conditions. Both men's and women's teams had been promoted to Divison One of their respective leagues at the end of the 2018-19 season so the 2019-20 season was all about the challenge of staying up. Unfortunately the men's team, beset by a few injuries and one or two departures, were unable to capitalise on last year's promotion. Much of the damage was done earlier in the season, but the 'A' Team finished strongly, managing their best points score of the season in the final race and promising performances from the regular scorers bode well for a bounce back to the top flight from Division Two next season. James Ashley was first home for the team, just outside the top 100, joined by Tom Bunn, Richard Keep, Jon Stanforth, Jon Mould and Stuart Pearson as scorers. 16 men took part in the last race and were well supported by Team Manager, Ian Mackenzie and other members of the squad offering support to those taking on the tough 6 mile course. The Leamington XC course is a challenging one, including Beacon Hill and the infamous 'ditch', which was taken well or at least in an entertaining fashion by all!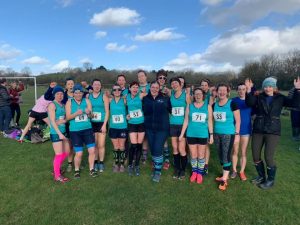 The women's team successfully avoided relegation, building on last year's promotion under the motivating team management of Rhian Littlewood; unfortunately Rhian was unable to run the final race, but this served to further inspire the team to 'beat the vests' in their final push on the circa 6 kilometre course, also incorporating the challenging ditch to everyone's relief (or perhaps dread, depending on your viewpoint!) Imogen Peck finished her first season with BvH in a fantastic 15th place, with Monica Baptista, Lorna Al-Ani and Alison Price completing the scorers and joined by a further 12 squad members on the day along with vocal supporters. The team spirit was second-to-none and gives encouragement that the team can cement their place in the top flight next season.
The league races may be over, but there is still the chance to support the teams taking part in the Nationals next weekend; coach places are available and free to BvH Members (a £5 deposit secures your place and will be refunded providing you take up the space), Click here for Tickets.
Men's Results – League Race 4
| | | | |
| --- | --- | --- | --- |
| 106 | 39:55:00 | James Ashley | SEN |
| 116 | 40:35:00 | Tom Bunn | U23 |
| 127 | 41:09:00 | Richard Keep | V35 |
| 138 | 41:56:00 | Jonathan Stanforth | SEN |
| 159 | 43:09:00 | Jonathan Mould | SEN |
| 165 | 43:27:00 | Stuart Pearson | V50 |
| 185 | 45:27:00 | Adrian Fowler | V50 |
| 224 | 51:02:00 | Tim Hodges | V50 |
| 225 | 52:18:00 | Dave Powner | V45 |
| 226 | 52:48:00 | Daniel Wilson | V55 |
| 229 | 57:08:00 | Paul Samuels | V55 |
| 230 | 57:14:00 | Kevin Peace | V60 |
| 231 | 57:29:00 | John Cheel | V60 |
| 234 | 62:22:00 | Rob Styles | V45 |
| 235 | 72:23:00 | Barrie Roberts | V75 |
Women's Race – League Race 4
| | | | |
| --- | --- | --- | --- |
| 15 | 24:56:00 | Imogen Peck | SEN |
| 46 | 26:55:00 | Monica Baptista | V35 |
| 56 | 27:26:00 | Lorna Al-Ani | V35 |
| 67 | 28:08:00 | Alison Price | V35 |
| 77 | 29:03:00 | Laura Gale | V40 |
| 80 | 29:11:00 | Laura Leslie | V35 |
| 85 | 29:39:00 | Charlie Hurd | V40 |
| 106 | 31:05:00 | Sarah Rock | V35 |
| 107 | 31:11:00 | Mathilde Housley | V40 |
| 112 | 31:33:00 | Jude Glynn | V55 |
| 125 | 32:19:00 | Sam Pretlove | V45 |
| 132 | 33:29:00 | Helen McGettrick | V40 |
| 133 | 33:39:00 | Suz West | V40 |
| 146 | 36:28:00 | Pauline Wright | V60 |
| 151 | 37:31:00 | Caroline Ankcorn | V50 |