Great runs for BvH Ladies in the final XC league race….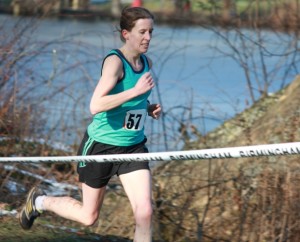 A fine turn-out of BvH Ladies for thier last cross country league race of the season, held at Cheltenham (the same as the Men). Linda Howell ran a fantastic race, finishing in 18th position and was backed up by the rest of the BvH Ladies.
Linda Howell reports:
Nine intrepid BvH ladies arrived to a cold but sunny venue equipped with t-shirts and long sleeves to wear under the all important teal vests. By the time we had jogged round and were heading to the start most of us had been swayed by Marianne's hard core approached and were down to vest and shorts. Michaela showed much more common sense!
We lined up with the usual selection of keen bean University girls and more seasoned cross country goers to face the first challenge..getting across a slightly uneven but flat field. Sounds simple, but if like me sprint starts are not your thing, it really did pose problems, especially as you had to narrow to a funnel and up onto a ridge. A steep icy bank down later and the route opened up to lead you round open parkland.
A number of undulations followed; with no real ups there were no real downs so constant effort was the order of the day. I'd just about settled into my stride when major challenge two was revealed – the "water feature" a steep drop into a shallow stream under which lurked rocks and bricks just to add to the fun. Some of the ladies had scoped this out prior to the race, I had preferred to remain in blissful ignorance but came through unscathed, if slowly, first lap round. A brief tree root line section gave way to return us back to the start line for lap two.
By this point the field had thinned out and the personal battles were being fought. Sarah against the lady who nearly made her ill at Wollaton, Nicola with anyone in pants, me with anyone with a University vest and I'm sure many others were playing out similar scenarios over the second lap.
With fantastic support from the men and our fabulous supportive entourage we all pushed on to secure our best finishing position of the season.
The water feature nearly took its toll as I landed awkwardly second time round, but such was my determination that a Birmingham Uni girl would not take advantage and thanks to Brian, Stuart and Steve cheering me on I managed to get back past her and hold her off to the finish. Steve James' "They're gaining on you" in the finishing straight was what I needed to dig deep and stave them off.
Hot on my heels was Marianne, out sprinting someone to the line to finish 39th. A fantastic battle looked to be going on between Nicola, Laura and Sarah, finishing in 59th, 60th and 62nd respectively. Fiona and Emily surely kept them in their sites, finishing 73rd & 78th. Michaela had a fantastic run to finish 98th with Lesley Pymm completing the BvH efforts in 131st.
We finished 10th of 36 teams on the day, and 10th of 26 teams throughout the season, a fantastic reflection of the strength and depth of the ladies team, not to mention the team spirit shown by all the ladies who have competed this season.
I'd like to thank Sarah Rock, on behalf of all the BvH cross country ladies for her organisation, enthusiasm and support throughout the season, it's definitely been one to remember.
Thank you also to Brian and Izzy Pearson, Stuart Leslie, Steve James and Joe Lewis, to name but a few, who have cheered, supported and caught discarded gloves throughout the races, despite some of my gestures towards you….Steve….we really appreciate it!
Results are here
Some pics from Paul Gorman here