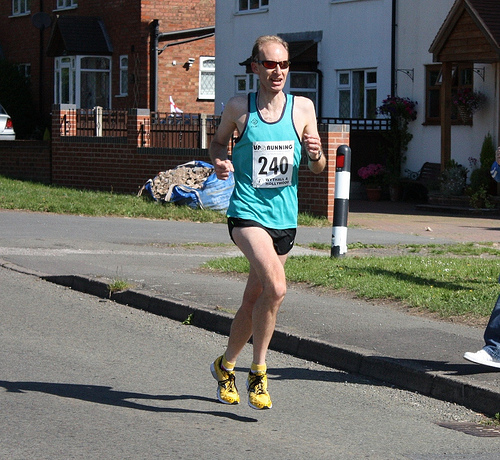 Mel James wins the Ladies race in 18:11 (and writes a report for us) and Dean Parker was 3rd in the Men's in 16:21. A good turnout of BvH runners in this well organised race.
Mel's report: I entered this race as I was looking for a fast summer race held at the weekend instead of after work. The course, although not flat, was held on beautiful undulating country lanes, closed to traffic and well marshalled. All abilities were present and it was lovely to see families running together.
The youngsters set off like whippets of course, only to crash and burn after about 400m. Jo Malin of Radio WM set us off with an unusual piece of advice, "When I blow this horn, leg it!" Dean ran a very relaxed race ahead of me and was soon out of sight. Andy Wheeler was by my side for the beginning of the race but I simply couldn't let someone who had raced for 5 nights the week before beat me!
Well done to all the Bournville Harriers who took part – the organisers were impressed by our participation and support of one another. It was an event you could definitely take all the family to – there were various stalls and dance displays, cake stalls and tombolas to keep your children entertained if running doesn't really do it for them! The date for next year's race is already on their website so put it in your diary. Thanks to Andy W for letting the club know about it and for those people who supported us on the day.
Selected Results (there may be other BvH people who ran but their club isn't stated. Check the full results here www.wythall-hollywood-funrun.org.uk/results
| | | | | |
| --- | --- | --- | --- | --- |
| Name | Position | Time | gender | Club |
| Dean Parker | 3 | 00:16:21 | Male | Bournville Harriers |
| Melanie James | 11 | 00:18:11 | Female | Bournville Harriers |
| Andrew Wheeler | 13 | 00:18:48 | Male | Bournville Harriers |
| Martin Foster | 39 | 00:21:56 | Male | Bournville Harriers |
| Maria Wilkes | 72 | 00:24:41 | Female | Bournville Harriers |
| Rachel Partridge | 94 | 00:26:46 | Female | Bournville Harriers |
| Philomena Williamson | 114 | 00:28:01 | Female | Bournville Harriers |
| Kelly Sprawson | 124 | 00:28:55 | Female | Bournville Harriers |