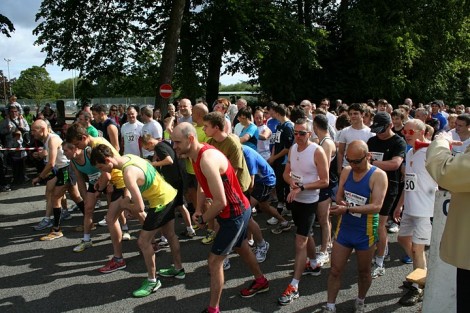 Andrew Halliday reports: Sunday 19 June 2011 saw the running of the Wythall 5k and the 1.5k fun run.
The 5k race was one I'd competed in last year (when I ran my 5k PB), but having a few health problems this year and so getting to the start line is my biggest challenge at the moment, rather than thinking about PBs.
I registered for the race about 20 mins before k/o, and having run the Blakedown Bolt 10k on the Friday, I had no expectations but a very gentle warm up confirmed that my legs were still functioning. On the start line was Dean, and so my race plan changed from 1) not having any plan but to try and finish in one piece, to 2) trying to finish in one piece and hang onto Dean! I'm not sure who was feeling worse out of us (Dean had been on the alcopops the night before), but we had a good battle anyway.
The Wythall 5k is a predominantly flat course but the 2nd km is a gradual uphill rise. Once you are through that, it's a good course. The weather was very good for racing.
Good results for BvH – I finished 3rd in 16m 34s, with Dean 4th in 16m 41s. Looking back I should have gone for 2nd place (who was 3s ahead), but timed my sprint too late. Still, all said and done I was pleased to finish in one piece and so, I think, was Dean!
More importantly, the 1.5k fun run came later in the day where my 6 year old son finished in 24th place to take his place as the fastest 6 year old in the West (midlands that is!).