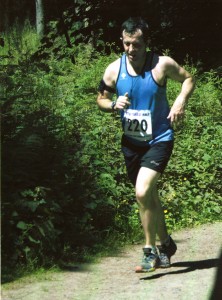 Lesley Pymm reports:  We waited a long time for summer to turn up this year, and it arrived with a vengeance this weekend.  I had not run the 1/2 for a long time as last time I ran it the weather was really hot and I decided that it was probably best not to do it again.  For the last few years it has been cooler and last year it was wet and muddy – much more my type of course – so I entered this year.  I should know by now that the British weather is not to be relied on!! 
The ground was rock hard in all but a very few places – even that boggy bit by the river, much loved by those who return every year for the 8 miler in February, was virtually dry.  I started off well, not far behind Mark, but decided that in that temperature I would be mad to race and decided to just 'get round'. 
There were hilly bits, there were tracks and there were woody bits.  There were also shady bits and more exposed bits.  I found that I was slowing down in the shade, just to prolong it.   I let a woman pass me in the woods and then thought that maybe she was in my category.  I decided not to bother chasing as it was still fairly early on in the run and I did not want to exhaust myself.
There were three drink stations out there, with jelly beans at two of them.  It was well organised and well marshalled.  In a masochistic sort of way I enjoyed it, although I was pleased when I passed the 12 mile marker and knew that I could push for home.  I was surprised that the finish was not the same as at the 8 miler and was easier.
BvH did a clean sweep of the V60 cat, with Ed Hartley running a fantastic 1.41.16. I was 1st W60 in 2.24.37 (that woman was much younger than me!!).  Mark Doudican was also there and ran a great 2.03.58.