Terry Doherty reports: I noticed this race last week and decided to enter it as, a, it was local(ish) and b, it was cheap, £10 entry, can't be bad!
It was a nice easy 40min drive out to Bewdley, didn't see any changing facilities but hey for a tenner I wouldn't expect any. Changing was round the back of the car.
The weather was threatening to get hot and sunny but as the course was all within the forest we were expecting plenty of shade and mysterious readings from the Garmin!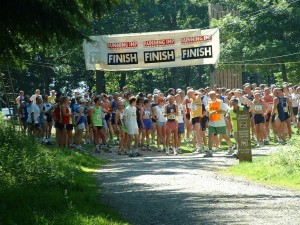 There must have been a couple of hundred of us lining up at the start, young Simon was there and we exchanged pleasantries, and after the brief pre race instructions we set off downhill to the first of the 'uphills', to be fair it was advertised as 'hilly' so what would you expect? Most of the hills were fairly easy going, long gradual climbs which were a case of 'dig in and get on with it' then long gradual down hills which were a welcome relief, although as you all know, what goes down has eventually to come back up, again and again and…….
To be honest there were two short sharp hills, at about 4 miles I think, that I was reduced to walking up, and I wasn't the only one!
Parts of the race were on long flat levels and these were quite enjoyable, there were about four water stations and I was reduced to walking while I got as much water down my throat as I could at each one.
The last part of the race was uphill, it seemed to go on for ages, I'm pretty sure it was over a mile and then through the trees I could just see the finish banner and I actually sprinted up the last hundred yards!
Nice medal and a biscuit of some sort were the rewards for running. A tough race but well worth the trip.
Results:
| | | | | | | | |
| --- | --- | --- | --- | --- | --- | --- | --- |
| 39 | 01:44:29 | | Terry Doherty | | V55 | M | Bournville Harriers |
| 75 | 01:57:36 | | Simon T Newman | PB | V35 | M | Bournville Harriers |