Lesley Pymm reports: What a surprise – when we got to the Wyre Forest Visitors Centre we found that it was still totally white! The snow from last week had not shifted at all.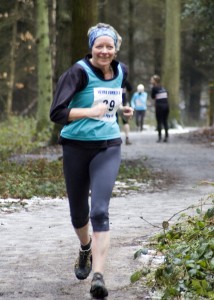 This was what met the organisers, Amazing Feet RC, when they turned up to set up the course. For those who know the course, the long downhill start was really icy. This is usually a bit of a free for all as everyone jostles for position, and on the ice it would have been treacherous. It was decided to start it at the bottom of the hill. This made the distance slightly short, but there was an uphill start so that sorted us all out.
I wore spikes on my shoes and was really glad of them – I needed them all the way round and they kept me upright. Everyone was taking it carefully. I found it pretty hard work after the XC the day before, but felt good at the end. It was a lovely day to be out running after the mist cleared.
I know that there were some others from BvH running, but I'm sorry, I can't find you on the results. My time was 1.22.45.
Results at: www.amazingfeet.co.uk