Lesley Pymm reports:  I am not sure that the XC on Saturday was the best warm up for the Wrecker – I could certainly feel it in my legs as I started the run on Sunday.  I was with a small group at the back and very soon found myself running along with the sweep – who kept trying to re-assure me that the field was faster this year than usual!
For those who have never done this fell race, it is done under FRA rules which means that full waterproof body cover, hat, gloves, whistle, compass and map have to be carried.  This is because a runner went off course in another event a year or two ago and died because he got so cold and lost.  I always feel that the Wrekin is probably pretty safe as there are plenty of walkers and dog walkers about, but it is better to be safe than sorry….
Fairly early  on in the event we climb up the Wrekin for the first time and then we have to get down again.  Looking at the photos, it was so much easier for the faster runners.  By the time I got there it was so slippery.  As last year, I did the first bit on my backside.  Brian Smith was at the bottom taking photos and shouting abuse at me – seemed to think I was spending too much time sitting down!  Anyway, I staggered down the last bit on my feet.
A bit of track around the contours and then it was up again for the second climb of the Wrekin.  I managed to overtake a couple of people on the climb!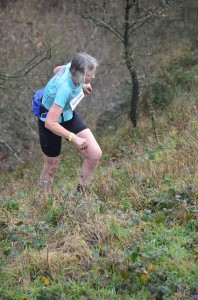 Once on the top, it is a run along the ridge and the chance to shout encouragement to the faster runners who are on their way back.  It is a friendly event and they were shouting too.  Towards the end of the ridge I had to go down again.  Once again this was a bit slippery in places and I sat down for part of it – not as bad as the earlier one though.
A loop around on narrow paths and then it was climbing back up for the third time.  It was a bit confusing at this point as I could hear people running behind me but knew that there were only two competitors behind me, and the sweep.  It sounded more than that.  Eventually  I realised that it was a local boxing club out for a training run.  They were running a bit and then shadow boxing.  I got to the trig at the top at about the same time as some of these young men and it was difficult to see or hear the marshals because of them – especially as the mist was rolling in again.
I got on the right path and after that it was fairly straight forward coming down and then eventually getting to the end.  I managed to stay ahead of the two runners I had passed.
There was a Wrekin Wrecker buff for all finishers and, back at race HQ, there were chips!
This is a really good event.  They call it 8 miles, but it is not quite that far – although it feels a lot further.  My time was a few minutes slower than last year, but I had done a hard run the day before – so I was pleased.