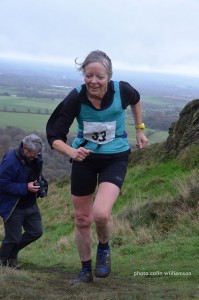 Lesley Pymm reports: In the couple of weeks before this event, when it was very dry, I had hopes of doing it all upright.  The rain in the past week put paid to that one!  Most of the run is fine, but there is one hill that I had not yet managed to do on my feet.  Would this year be any different?  I doubted it.
The race HQ is at Buckertree Hall Hotel and it is quite a long walk to the start of the race – with a fair amount of climbing before you even start.  This is one event where they always insist on full fell running kit – waterproofs, compass, map, gloves and hat – oh, and a whistle.  I always think that the course is so convoluted that if I did go wrong, I wouldn't have a clue where I was anyway, so I'm not sure that the map would be very helpful.  It is always very well marked and marshalled, so nothing to worry about.
After the briefing, we were counted out over the stile and then, when everyone was over, we were off.  Fairly easy running to start with and then it starts to climb, almost to the top of the Wrekin.  I don't mind the uphills here – they are just hard work, it is the downhills that freak me out.  Eventually we got to the marshal who said 'left here and down the scree'.  I started off OK and did actually manage to stay upright for much of it.  There were a couple of very short sections where I had to sit down.  I'm seriously thinking of sewing leather patches to the shorts for next year to get a good slide down!
Anyway, at the bottom it was just a case of trying to catch everyone else who had got away from me!  I knew there was a long uphill coming up in about a mile and I usually catch people up there.  Low and behold, I did manage to get the last of them as we crested the hill onto the ridge of the Wrekin.  The problem was that we then went immediately into the 'new bit' which was a downhill, so of course she got away from me again!
This was quite a difficult section, much harder than the previous course although I think it was better.  It was quite steep and the mud was soft and slippery.  We then went onto a loop around and then climbed back up onto the ridge.  As I got higher, it was harder and harder as the wind was blowing up a gale.  I felt so sorry for the marshals who were there at the top by the trig.  They had been there for such a long time, but were still cheerful.
Even dropping down from the top, there was still the wind to fight against until I got further down and was able to change direction.  Now there was just a fairly longish run to home.  I could see the woman ahead of me who I had been trying to chase all race.  I knew it was a downhill finish, so she would be stronger on that, but I could see that she was walking bits of it.  I tried to catch her, and did draw level.  I tried to pass her just as we got to the final downhill run in – but she took off and there was no catching her.
I was not sorry.  I was last, but only seconds behind her.   I can live with being last, I just don't like being very last – if you see what I mean!  I collected my event buff and water and then went back to the hotel to change and get some chips (included in the entry)!
I really do enjoy this event, even though it is hard.  I was actually about 3 minutes slower than last year, but as the new section was more technical and the wind on the top was stronger, I'm happy with that.  Great race, great atmosphere.