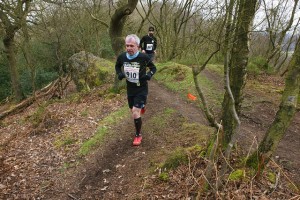 Lesley Pymm reports – This was the final race in the Shropshire Fell Race Winter Series and it was so dry!  It seemed pretty cool so I kept a long sleeve top on expecting it would be very much cooler on the top of the Wrekin.  It was good to meet Jonathan Bryant at the start – I would not see him again until the 'out and back section' on the ridge of the Wrekin!  
As usual the junior race strated after the main race, but I am convinced that it was not 5 minutes after as these junior mountain goats came charging past very soon after I had gone off road and started to climb Ercall.  Soon they had turned to run back and the older runners kept on going.  I really must do something about my downhill technique – I know, I say that every time!  I was with a group of runners at the top of Ercall and then really lost it going down.  Then, well adrift from the field, I got to the road and then up to Forest Glen and started to climb the Wrekin at the same time as a very large walking group with dogs and children.  I had to turn off and go up the steep scree bit and the children were in awe asking if I was really going up there and wishing me luck.  I told them it was coming back that I needed the luck.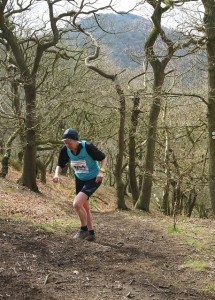 I started the clmb and was closing the gap again on the runners ahead.  Towards to top – just as I drew level with a young woman who would eventually drop out – the leaders started to hurtle down the scree.  They were amazing!  I still had a bit more climbing to do as I reached the main path and then had the long plod up the ridge to the trig.  The faster runners were calling encouragement on the way down and I was shouting to them too.  This was where I saw Jonathan who was going well.  I did manage to overtake someone else along here too – and he didn't drop out!  Hooray!
Up to the trig and round it, then back down again trying to pick out the grassier sections.  I was so warm and really regretted my clothes choice.  A vest would have been fine!  Then it was back to scree – which I had been dreading.  Actually I stayed upright for the first time ever, although it wasn't particularly fast and was very dry.  I must train on downhills – have I said that before??? Then it was back through Forest Glen and up and over Ercall.  It was said to be about 5.5 miles but I only made it about 5.2 miles.
Lots of shouts at the finish.  The sun came out and the presentations were a lovely friendly affair as usual.  Great run and looking forward to the Summer Series.