Barrie Roberts reports: My wife Katie and I have just returned from the WMA T&F Championships. I was fortunate to be part of the GB&NI Team which acquired 203 Medals (80G, 66S and 57B).The host nation Spain amassed 80 Gold Medals as well, but the GB Team went above them by virtue of securing one Silver more. Germany, the USA and Australia made up the top five nations.
In general I enjoyed the experience of competing against so many outstanding and talented athletes. However, at these particular championships, I tended to be 'off the pace' in the middle distances, and ran better over the longer distances. I did prepare for the Championships but, arguably, not well enough!
Cross Country – It was a challenging and tough course on a transverse incline.The ground was particularly hard and there were lots of stones/potential hazards under foot. I competed the 6k in a time of 34:25. (Quite a number of the competing athletes thought that the Course was unsafe and unsuitable for a Masters Event!)
5,000m (track) – Very hot and humid (98%). I ran a SB in a time of 25:20.09.
800m (track) –  I ran the distance in a time of 3:26.43
1500m  (track) – I completed the semi-final in a SW time of 6:56.19, and found myself in the World Final of the 1500m! I didn't run that well in the heat and the high humidity and 'got around' in a time of 7:08.09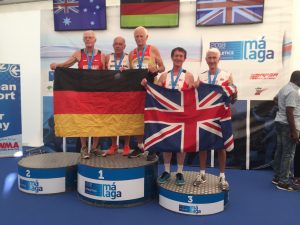 I was selected to run in the GB&NI 4x400m Relay Team and, to my surprise won a Team Bronze Medal.
P.S. The next World Championships take place in Turun (POLAND), and it would be great to see some BvHers there competing.