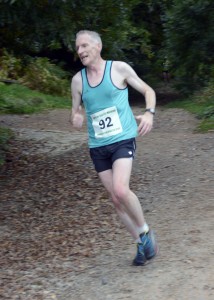 Lesley Pymm reports:  The weather was ideal for the 60th running of the Worcesteshire Beacon Race.  I have done it when it has been so warm that people have been sitting up the top of the Malverns having picnics when we ran by, and I have also run in really cold rain – Saturday was just right!  I saw Kevin Peace and Have Harte at the start – not that I was going to see them after that!
The run starts and finishes in the Rose Bank Gardens in Malvern.  This is a good location for spectators as they can see us off, walk up to St Ann's Well (which we pass 3 times) and then walk down to the finish.  It starts off along a tight path, so it is difficult to overtake there.  I tend to start towards the back so that I don't get into anyone's way.  It then starts to climb.  I had to laugh as a group of young men passed me saying something about thinking that they would run for about 45 minutes and then be in the pub.  Looking at them, that was very unlikely as the highest point is 1395ft!  The total distance is just under 7 miles.
We passed the Well for the first time and then did a smallish loop before passing it again.  That was the last time we would see friends and family for a while!  More climbing.  Some of this was through woodlands on small paths and at other times it was on tracks.  Eventually I got to the top and was climbing onto the ridge.  There was a bit more breeze up there, which was welcome.  I passed a man who seemed to be struggling with it and then, a bit later, I passed one of the young men who had hoped to be in the pub after 45 minutes or so!!!
Eventually over the top and then a good grassy downhill, the first man I had passed came charging past me on the downhill and then turned and took a photo of me!  He said I was his inspiration as I was 'so strong' and could keep going!  He has since sent me the photos he took.  On the next uphill, I tried to encourage him to keep running, but he said that he didn't have the consisency.  I kept waiting for him to pass me on the downhills but it didn't happen.
Lovely downhill finish and I wasn't passed by anyone. Passed the Well for the final time and then the last loop before the finish.  I was a bit slower than last time I ran it, and did most of it alone.  I remember being in more of a group before.  Must run harder and faster!
There was an engraved shot glass at the end, as it was the 60th year.  Good cakes and refreshments and, for those who got prizes, really unusual prizes.  It is a great event and I really love doing it.