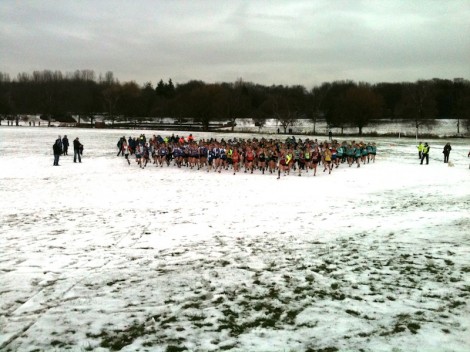 Team captain Sarah Rock reports: Snow on the ground, rain in the air. It was a far cry from the lovely sunny day of the last cross country race this Saturday as we headed off to Perry Park, but that didn't deter 19 ladies from turning up to compete.
The weather posed a few problems, the main one being what to wear – so many options – shorts or leggings, or three quarters? Short sleeve tops or long sleeved, or just vests? Gloves or no gloves? And/or hat? Birchfield Harriers were even selling running pants near the start (bargain £2) throwing another option into the mix. If only there was a BVH committee member with the title 'Style Consultant' who could have helped us out….
The course consisted of two laps and for once was relatively flat, although there was quite a significant amount of snow to contend with, which meant slush and puddles on lap 2. Welcome support on the route was provided by Stuart Leslie, Sue Ward and Barrie Roberts. (Sorry for my poor aim when throwing my hat to you Stuart!)
There were strong runs from all the ladies, including great debut races by Kathryn, Sarah Vince, Julie Delahaye Slater and Rachel Ward. Several members coming back from injury also ran well. Despite getting sabotaged by a rival spike in the first few hundred metres, Linda sailed past us all to put in another fine performance.
If I had forgotten why we all love cross country I remembered on Saturday. Great team spirit, it was really inspiring to see so many ladies lined up in teal, and so many smiling faces at the end.
Organisation by Sarah was brilliant as ever – including hot showers at Perry Park, goody bags with chocolate money and a post race social at the German market. Well done team and here's to lots more cross country in 2011.
Results to follow.