Andy Hoole Reports: Some of you may know that I'm currently deep into training for the Reykjavik Marathon at the end of August (anyone who is really bored can follow the whole sorry saga HERE) and in order to follow my plan, tried to find a suitable half marathon to act as a bit of a tune-up race. I found this particular one was being held in sunny Lytham St. Annes near Blackpool, which meant that I could combine it with a trip back home.
As a proud Prestonian, I am usually loath to go anywhere near the "Town with the Tower" just down the coast but the prospect of a fast and flat course on similar terrain and conditions to Reykjavik swayed me. So having checked my jabs were up to date, and with my Dad in tow for support, I headed off on a Sunday morning trip into the wilds of the Fylde Coast.
The course itself was two laps, mainly around a lake and down the town promenade where we passed the disappointingly small windmill that gives the race it's name. It attracted a big field too, just short of 700 runners. Whilst it was definitely flat – I didn't notice any elevation apart from a tiny climb at the start – the speed could definitely be called into question thanks to a particularly strong wind blowing in off the sea.
Exactly how strong became apparent after about three miles. I had performed my usual trick of starting too far back in the field but had made good progress until we made the first turn off the promenade and were immediately hit by the strong headwind. As the course was a loop, this meant another four miles struggling into the wind and slowing considerably. As the field was thinning out, it meant that there was no one at my pace so I couldn't shelter in a group and had to stride out on my own and try to maintain some form of momentum.
By mile seven, I thankfully turned out of the wind and had managed to build up a reasonable gap over the next runner behind me. I also realised that the chap in front of me had gone off too quickly and was now catchable, which gave me something to aim for before the next gusty section.
I caught him just before the ten-mile mark and despite my best efforts to keep attacking, knew that I wouldn't be bothering my PB due to the conditions. I pushed hard in the last mile and dodging a few Sunday walkers, finished in 25th place in a time of 1:27:18 – about 45 seconds off my personal best. Despite this, I was really pleased with the race considering the weather. Checking on Strava afterwards, I noticed that the sections out of the wind were comfortably ahead of PB pace but were sadly cancelled out by the seven miles that weren't!
Crossing the line, I received a special mention for being a member of a running club "from the Midlands" – obviously not used to visitors in this part of the world! I was also given what I think is probably the best medal I've ever had – a large replica of a windmill (almost as big as the real one we ran past) with actual spinning sails. I'm pretty sure you'd struggle to find a better race medal, but I'm ready to be proved wrong.
Overall, a pleasing day out that has hopefully given me a bit of a race boost prior to the big marathon. It's a really well organised event with potential for a fast time if the North West Weather Gods are in a good mood.
To be honest, it's probably worth the trip just for the medal!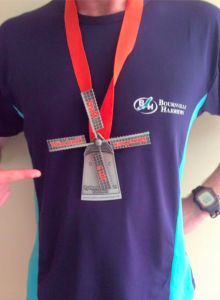 Results – HERE