Lesley Pymm reports:  I love this event.  It is a good old, traditional fell run attached to a great village fete.  The fete moves between 3 farms over a 3 year cycle, so the course is slightly different from each of the starts.  It is about 6 miles long,  I was told that this is supposed to be the most difficult run, but at least the weather was cooler than the only time I had done it before.  We got there in good time and invaded the tea tent with other runners before the start.  I then had time to watch a bit of country dancing from the local school children before heading off to the start.
The junior race started 5 minutes before our event, but we had to get over the fields to our start as we would have got in their way otherwise.  This meant that we could not really see the start of the junior run, but we heard them go.  Then it was our turn.  It was a difficult start as it was over very long grass and very hard to get going on it.  We dropped downhill and around a field before going into a path in woods and climbing a bit.  We came out onto a field and could see the front runners from the junior run on the other side of the field – presumably finishing!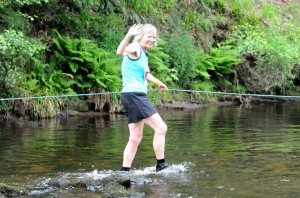 A bit further on and there was a bit of a bottleneck as we waited to get into the river safely.  The water was not very deep, but as the rocks on the surface were slippery it was good to have a rope there to hang onto.  Bryan Dale (race photographer) was in the water shouting at those runners he knew to give him a wave.  Out the other side and more running in the woods.  It seemed to be mainly uphill.  Well, it would have been as we were heading for Hangingstone Hill.  I suppose the advantage of running through woods is that you can't see the top and so don't really realise how much you are climbing.
Coming out near the top I could hear the jazz band playing at the fete and see the tents – but they were a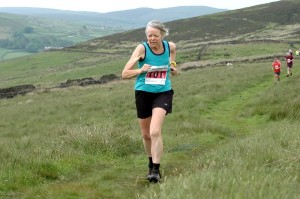 few miles away.  Just a bit more of a climb and then there was some good downhill running and I started to overtake people.  Lots of stiles to climb, but they were all fairly easy ones so no real problems.  Coming out onto a track I ran along and onto the only bit of road where we crossed the river again – by the road bridge this time – and passed the brewery and trout farm.
Then we started to climb again.  I remembered that this was almost the finish last time I did it – but no so this year.  There was still another mile or so to go.  It was quite a climb back up to the finish, but I kept working at it and managed to pass a few more runners.  More encouragement from Bryan who had moved to this spot to take photos.
Once at the finish there was trout to be collected and another invasion of the tea tent.  Mike had been sampling one of the Wincle Brewery ales, and was pleased that I had returned in one piece as this meant I was OK to drive and he could try another one!
A great day out and a lovely run.