Lesley Pymm reports:  I had been really looking forward to this event, and my knee had not hurt much for a few days.  Everything was looking good.  We got to the village in good time and had a wonder round the village fair – checking out the tea tent for my return!  I did a bit of a warm up and was still feeling good.  Anne Packer (as was) was starting the run and there was a bit of a talk at the beginning, but I couldn't hear a word of it.  Hope there was nothing important.  Then we were off!
Through the farm yard and then out for a short run on the road.  It was a very steep downhill and – you've guessed it – the knee really started.  I had to slow down and grit my teeth, it was horrendous.  Past the trout farm and the brewery – lovely smell!  Then up a very steep hill that went to the back of the farm we had started at.  Down the hill again and over a stile to get into the woods.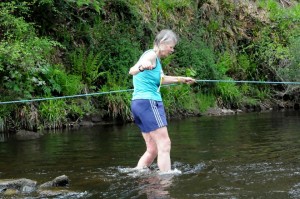 It was all downhill, or seemed so.  I was running with a group of women from Macclesfield Harriers at this point and was looking forward to some uphill so that I could get past them.  It was not to be.  We all got down to the river together and Bryan Dale was in his usual spot in the water to take photos.  I wondered if the knee would appreciate going in to the cold water to help it, but didn't try.
Out of the river and over some fields.  Eventually we got into the woods.  My memory of this run was that it was mainly uphill.  How wrong I was. The woods seemed to be mainly downhill, and I was having to slow down.  My group of women was getting away and there was nothing I could do about it.  At very long last I came to the point where I started to climb.  The relief!  There was a cheery marshal saying 'Don't worry, what goes up must come down'.  That was what I was worried about.
The pain eased as I climbed and I could see the women ahead, I was gaining on them.  I came out of the woods and it was cooler in the open.  I was able to hear the loudpeakers at the fair.  I got to Hanginstone Rock and there was just a bit more of a climb.  I ran over to the highest point having climbed a wall.  It was lovely up there.  Every time I do this race I think I must come back and walk here.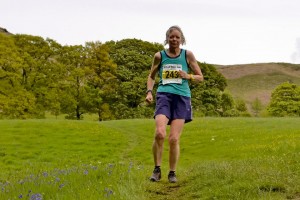 Again a marshal told me that there was some 'lovely' downhill now.  I don't think so.  The runners ahead got away and I thought I was last, well someone has to be.  This downhill got very steep, I was struggling, and came out onto a bit of gravel track before going into some more woods.  It really was lovely, but downhill!
Eventlually I came out onto a road and had a little run before going off and starting to climb the little steep hill that we had used on the way out.  The marshal at the top told me that if I went off to the left it would be a little less steep going down.  Mike was at the bottom of the hill shouting, before he ran off to climb a stile to get back into the finish field before me.  I ran throught the field and into the gate to run across to the finish.  What a relief.
I hobbled over and got my fresh trout for tea, told the man it was what had got me round.  It turned out that I was not last.  Sara, from Stafford Harriers, who I know from other events was behind me.  If I'd known, we could have run together.  I saw her in the tea tent and she asked if we wanted her trout as she did not like them.  I talked to a friend who also loves this event but could not run this year.  Her view was that it is the sort of course that always finds your weakness!  If you have a problem with uphill, it will seem uphill; if you have problems with uneaven ground, it will seem very uneven.  In my case, I was having trouble with downhill …..
This is a lovely event.  It rotates between three farms in the area and I have done this route twice now, but must go back next year to get the start I haven't yet done.  It is about 6 miles, but depends a bit on the start.  There is a lot for the non-running partner and family members to do.  Mike sampled a few of the beers from Wincle Brewery as well as the food on offer!  There is maypole dancing, a dog show etc.  Good traditional village fair stuff raising money for the village church and school.