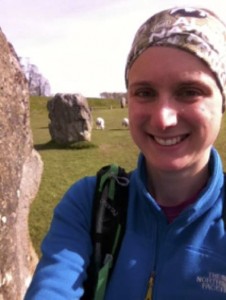 From Leonie Clitherow: Marathons are strange things: my non-running friends frequently question why I would ever want to put myself through them, especially when I complain about how my legs ache the next day. My answer to their questioning of my sanity is simply that I like cake. In fact I like lots of cake, the bigger the slice, the gooey-er the icing, the more calorific the better in my opinion. Quite possibly whilst eating some cake I decided last year that I needed another marathon to "train" for, so I decided to re-run my first ever marathon: the Wiltshire Wildlife Trust's Neolithic Trail Marathon.
This trail marathon goes from the stone circle at Avebury, all the way to Stonehenge. Except it doesn't go to Stonehenge anymore because someone decided that a bunch of sweaty runners was off-putting for the tourists who came to visit the ancient monument (or some excuse like that). The event now finishes at Old Carter Barracks, which is somewhere nearby to Stonehenge. The route crosses extensive sections of military land normally closed to the public, and therefore the route changes every year depending on the location of unexploded military ordinance, which conveniently meant that this year no matter how slowly I crawled around the course, it would still be a PB for that route.
As the route is a linear course, a bus takes runners from the car park at the finish line to the start in Avebury (or vice versa depending on where you wish to park). The whole thing also starts at a very civilised 10:30am, which gave plenty of time for pre-race nerves to set in, time for some last minute snacking on homemade flapjack (carbs and sugar, what more could you want?), and a quick stone circle selfie.
The first 2km are along roads, which gives time for the 300ish runners to spread out before hitting the first off road section, and the first hill. As my training for the marathon had involved eating cake, and not running (due to illness, moving house, job interviews, and the small matter of finishing my PhD) I decided in advance that I was going to walk up every hill and stick to 9 min mile pace (or slower) on any vaguely run-able sections. The first hill was a beast, and it was a good job the weather was clear so the views across Wiltshire were suitably attractive to detract from aching legs at only 6km into the race. We were rewarded with a steep and tricky downhill, where there wasn't much chance for heroic sprints before hitting roads again at All Cannings. I don't like roads because they involve running quickly and fewer excuses for walking, but I managed to plod along fine for a while.
Significant hill number two arrived at around 17km and took us to the point where the half marathon runners had started. Here I had the first niggling doubt that this might be the 'marathon that wasn't' as 18km is definitely not half a marathon. Shortly after, as the route took a pleasing downhill trajectory, the half marathon route diverged and I settled into a gentle plod thinking that this must mean the two routes had been modified in order to reach the correct distance.
Somewhere around 27km things started to go wrong. My appalling lack of training became very apparent and my pace plummeted as I started walking up anything remotely like an incline. My stomach was cramping and I felt hungry all at the same time (it's difficult to eat emergency Kendal mint cake under these circumstances) and I was beginning to suffer from the heat (anything above about 10 degrees is hot for me and we were running along exposed dirt trails with no shade). A few undulations proved rather more difficult than expected and I'm pretty sure from 30km onwards my run-walk regime was frequently punctuated by pathetic whimpers. The course became quite lonely here as the runners had spread out far enough that I couldn't see anyone but a few walkers in front or behind (there is a simultaneous walking challenge that covers the half or full marathon distance). Somewhere around here a couple tanks rumbled past, which provided a momentary distraction from various aches and pains.
From 35km I succeeded in getting my brain into gear and managed a decent plodding pace for a couple miles (it was downhill). I was convinced that as soon as I reached the 5km to go mark I would be able visualise the distance and start running properly, but unfortunately my legs decided to go on strike and I stumbled and walked the last hill in a mildly delirious whimpering state. The marker for mile 25 arrived half a mile early and as the path took a downhill direction I knew the race was going to be disappointingly short. Soon I could hear the announcements as people crossed the finish line, even though my Garmin told me I had barely covered 25.5 miles. Finally I stumbled around the last corner and forced my legs into a brisk shuffle (the photos are deceptive) to cross the line in what would have been a marathon PB had the final distance not been 25.6 miles. I had estimated that I would finish close to 5 hours, so I was pleased with my time of 4:27:11, but the relief of finishing was tinged with real disappointment that the race organisers had failed to measure the route correctly.
Next time I run a marathon I will actually train for it…maybe…
Proof that there were hills: https://www.strava.com/activities/562971746
More information on the race: http://www.wiltshirewildlife.org/Pages/Events/Category/sarsen-trail-and-neolithic-marathon