Orlando Corea reports on the Wilne 10k, incorporating The Midland Counties AA, Midland Masters AC and The Derbyshire Championships on 2nd September 2012.
As you can see from the race title the Wilne 10k (near Draycott in Derbyshire) promised to attract a high quality field. It is also billed as a flat and fast 10k. It was run for the first time last year and even without the incorporated championships there were a raft of great times from some of our best regional runners.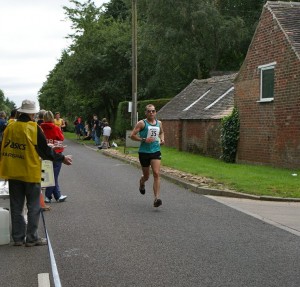 Rich Bayliss and I have been training well together recently so thought we would enter and try to improve our best times. Sadly the race day clashed with others diary plans, the Wolves HM and Marathon and the Kenilworth HM. Otherwise we could have got a bigger team together.
From the moment we arrived in the free car park the organisation was excellent. There was a specially designated area where there were stands selling running gear and food, cheap tat, music playing, number collection etc. Really good atmosphere and a nice backdrop was the marina. Loads of announcements over the loud speakers keeping everyone upto date.
Race conditions, well having raced in some extreme weather this year, it was an almost perfect morning, perhaps a little warm, but just a light wind. Phew. Rich and I warmed up on part of the rural route then it was off to the start. Fortunately I was allowed into the elite pen at the start, Rich was able to get a great position just behind. The announcer introduced the top three men (all sub 30min PB) and women (sub 37pb). No pressure on them then! Looking around I was surrounded by loads of great guys with great PB so it was game on. Really fast start as expected but after 1 kilometre the lead group of about 10 moved away, I got into a steady rhythm on my own but with a string of guys up ahead for me to keep in sight. Fortunately there was a split time taken at 4.2k so I have worked out I was in 20th at that point. The race itself, whilst relatively flat does have, at the start of the second longer lap, a gradual straight mild incline for about 2k. This to me was where the race started. It was relentless and hard work but keeping my pace I started to close the gaps and overtake. I then managed to up my pace from 6-10k overtaking a few more guys and using the next one in front to help keep me focussed.
So I crossed the line in 32mins, 34 seconds, 16secs better than Telford last December. Rich flew around in 34m 05, over half a minute off his PB set earlier this year and almost 3 minutes faster than his times last year. Rich's improvements have been astonishing and this takes him to third on the yearly BvH rankings for 10k. I initially was slightly disappointed as I wanted to go low 32 minutes. However, once I saw the results and the people I was racing with I realised it was actually a pretty great running day. The course looked easier on paper than it was in practice. Running hard, without a noticeable decline, for 10k is relentless. The Cofton hill sessions set by our massively missed Joe Lewis came in very handy. Thanks Joe, and now to Dean for keeping the sessions going.
13th place for me, definitely not unlucky, Rich 29th.
1st place male 30m 14s.
1st place lady 36m 31s.
41 guys under 35mins!!
The separate results for the Midland Counties haven't been announced yet. I didn't enter the Midland Masters race as I am not a paid up member. Wish I had because I would have been second overall and first M35, drat.
I massively recommend clubmates running this next year. It is a great opportunity to snag a PB and/ or participate in a loaded and competitive event.