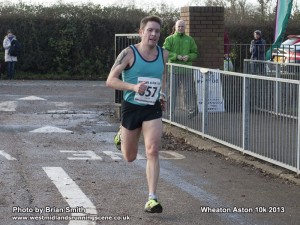 Lesley Pymm reports:  As the wind bashed against the car whilst I drove along the M6 to get to Wheaton Aston I did start to wonder about my sanity.  What the heck, Wheaton Aston 10k is something of a post Christmas tradition so I just had to do it!  Last year the route was changed slightly because of a flood at the start of the run – I had a feeling that we would be using the same course again this year in view of all the rain lately.
I was right.  At the race briefing we were told that there was again a flood (which we would have to go through close to the finish) and so they were starting a bit further forward and running a small loop in the village to make up the distance.  As ever, choice of attire was a problem.  In view of the wind I went for a T-shirt (and lived to regret that choice later in the run).
This is a one lap run; some undulations but nothing too strenuous – just enough to keep it interesting.  It starts in Wheaton Aston and after a run around the village we head off into the country lanes.  After about 1.5miles there was a flood. I'm sure they didn't mention that in the briefing.  A number of runners were going on the muddy verges to avoid the water.  I just went through it.  I was going to get wet anyway; I didn't want to be carting mud around the course as well!
The wind got us at times, and when it was sheltered it was really warm.  It was certainly not going to be a PB course in those conditions.  Thanks to Dean for the shout towards the end as he was heading off on his warm down.
Just towards the end there was the promised flooded road to splosh though, then it was just to get along the road and into the school grounds to finish.  This event was chip timed, although I can never really see the point as you have to go by clock time, and there was a technical T- shirt for all finishers.  Race numbers had forenames on – if spectators had good enough eye-sight to read them.
I was pleased with my time as it was more or less the same as last year when the conditions were not quite so windy.  There were 3 from BvH there.  Dean Parker was 2nd overall and 1st M40 in 33.57, David Jenkins was showing a return to form: 54.26 and I was 1st W60 in 55.26.  I think I earned the chips I got on the way home!!