Lesley Pymm reports:  I have run the West Bromwich 5k many times, but this was the first time at the new venue and I am still not sure if I enjoyed it or not.  The race HQ and start/finish was at the Q3 Academy in Wilderness Lane (don't they give schools weird names these days)?  The facilities were good, except that many of us missed the real ale bar that we had got used to at the old venue.
I went off for a warm up – as it was a 2 lap course, I decided to run one lap as a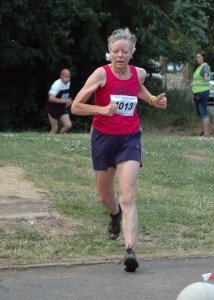 warm up.  I had assumed that there would be tape and arrows around the route – that was my mistake.  I ran off down the path at the side of the car park and followed it to the canal, so far so good.  Of course, once on the canal I had no idea when to get off!  There was another runner doing the same thing, so I was not alone.  He was faster than me, so ran up and over one of the bridges – he then came back and told me that there was no way through.  We carried on and then came off at the next bridge.  At this point I recognised the A34 ahead and realised we had gone far too far.  By this time I was worried that I may miss the start.  We asked a couple of lads where the Q3 was and they told us (politely) where to get off!
By this time there were marshals at the bridge.  We still had to run up a tarmac path through a large field and then through some woods – this was the hilly bit I had been warned about.  I was really worried that I was not going to be sorted in time to start.  When  I got to the start it emerged that a couple of coaches with children on a school trip had  just returned and the start was being delayed by 10 minutes.  What a relief!  Time for a loo visit!
A very warmed up me then took part in the run.  Obviously the laps were a bit shorter than the one I had done for the warm up.  Other people were very much in favour of the new course as it was 'varied' underfoot.  It was OK.  Not one of my favourites, but I expect I will be back next year.