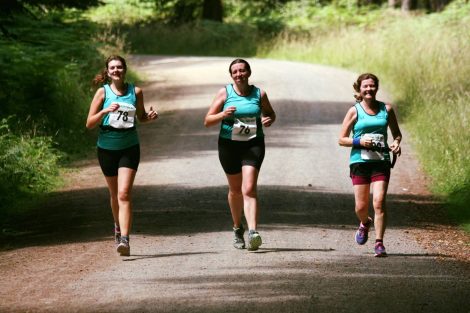 From Miriam Stevens: 
TEAL TARGET! Wyre forest trail half – A hot and hilly, almost hike, through the forest.
It's never a particularly good thing when people give you the "are you sure…?" face when you tell them that you're going to do your first half marathon at a trail event. Still it was too late to stop me at that point, as I'd already decided it was a sign to enter when Anna unfortunately could not use her number but could transfer it to me.
Luckily there was a fair few of us going, and a sense of #girlpower in the air as we realised we were outnumbering the boys! We met at Rowheath and car-shared to the forest, so the team spirits were already high. It was at this point Nicola decided to show me the Strava route and the inclines we would have to tackle that day (or training inclines, as Lisa may put it!). Still it was sunny, but fairly cool at this point so I thought things would be ok. We all gathered round the visitor centre at Wyre Forest, which very suddenly was transformed into the start line!
As the race began I tried to remember that the opening hill was also the one we had to climb up at the end, so I stuck close by Clare and Caroline to stop myself from hurling down it. On the second mile we went off the gravel and onto the grassy paths – I almost tripped over a rock into a stream, but luckily it just served as a reminder that the terrain here was unpredictable and I needed to concentrate (and maybe talk less).
After slowly jogging up the first massive hill I was met with the first water station which was shortly followed by a nice flat run through the forest. I attempted to run up the remainder of the hills but by mile seven the sun was high in the sky, and as the inclines were getting steeper, I let myself walk up a few. The course was so diverse, running on wide paths to no paths at all which meant instead of my usual chants from the runners ahead of "watch out, car!" people were shouting "giant twig" which for a road runner like myself was very odd (and at first I thought people were just insulting me aha).
We were met with a smile, or a laugh, by Simon and his camera at mile nine which captured some fab moments even if we weren't too pleased to see him at the time! Then again by Rich who sneakily caught a shot of Clare, Caroline and myself just before tackling the giant hill at the end.
Still at least after the race we got to have a classic BvH picnic, and not only that but there were some prizes to be won by our wonderful team too. Age category prizes for Jude, Stephen and Pauline! Then a women's team prize for Jude, Rhiann and Linda. The prizes were wine and beer which I am sure were very refreshing after a long run in the sun.
All in all it was an amazing day and I was so proud to have completed my first half marathon. I was even more immensely proud to have been doing it with the inspiring and lovely Bournville Harriers! #squadgoals.
I really recommend this race, the views were great, the marshalls so friendly and there were plenty of water stops and sweets to keep you going! Here's to next year….maybe 😉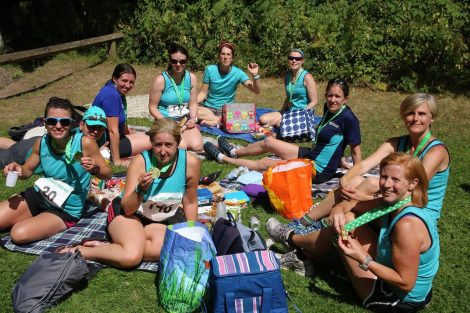 BvH Results
01:35:34          Stephen Forcer
01:48:16          Linda Howell
01:55:18          Jude Glynn
01:56:16          Rhiann Littlewood
01:58:00          Richard Shearing
02:05:55          Chris Ankcorn
02:06:08          Paul Samuels
02:07:18          Pete Hickman
02:09:37          Rebecca Jones
02:10:13          Mathilde Housley
02:13:03          Pauline Wright
02:13:03          Suz West
02:13:51          Jaeda Goodman
02:22:16          Lisa Thompson
02:24:50          Nicola Tautscher
02:32:07          Sharon Newman
02:35:19          Caroline Ankcorn
02:35:30          Miriam Stevens
02:35:40          Clare Mullin
02:44:27          Lesley Pymm