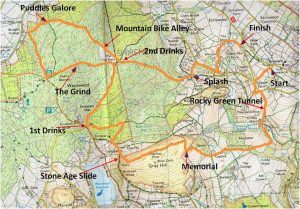 Lesley Pymm reports:  It was a shame that it was the same day as the Wasley Wobbler, but this year I chose to run the Wentwood Woodlark.  This was organised by Chepstow Harriers – who have to be close competition with BvH for the quality of cakes at events – but they were free at the end – I had 8 miles to run before I got to eat cake!  It was a glorious day at Earlswood near Chepstow and I was looking forward to the run.
Although we started on road, there was very little of it for the whole event.  We were soon off road and heading down a track (close to where we had been staying) and then off onto a footpath.  This was dodgy underfoot as it was stoney, steep and slippery.  I got to the bottom  and saw that there was a man already standing in a deep puddle trying to do something about his twisted ankle.  The rest of us were through the muddy bit and then started to climb up towards Gray Hill over The Oakes. It was steep climbing and I was pleased to get to the top.  Mind you, the downhills were worse than the uphills on this as they tended to be very stoney.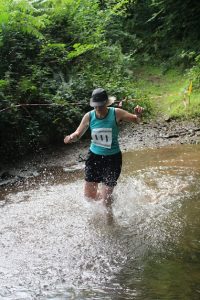 There was then a lot of lovely undulating running in Wentwood Forest.  Obviously I had no idea where I was, but I heard some locals just ahead asking eachother if they knew where they were – the best they could do was 'in the forest'.  We then had to go through the 'splash' – there was a bridge there but as far as the run was concerned it was compulsory to run through it.  Soon after that there was the only other short section of road and then along a track to the finish.
The finish was about 1/4 mile from the race HQ so I was able to warm down a little before getting to the cakes.
Really lovely run.  Nearly all off road. Low key and friendly. Harder than Wasley Wobbler and very good fun.