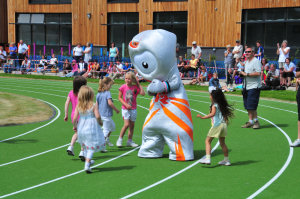 Lesley Pymm reports from the home of the modern Olympic movement:
This was the 124th Games at Much Wenlock, the 20th running of the triathlon and the second time I have done it. I had done the 7 mile road race regularly and watched the tri over the years, so am really pleased to be able to compete in it.
I had high hopes of doing better than last year, but I actually took slightly longer, the splits have not yet been posted, so I'll be interested to see what the various times were. The event starts at Bridgnorth Leisure Centre with a 500m pool swim and then we cycle from there to Much Wenlock. The bike is only about 15k, but it is very hilly.
At Much Wenlock we then have a 6k mainly off road run, including a few stiles etc. I did feel very sluggish on the run and could not get going – it is a lovely course, but it was more overgrown than last year and I found it quite difficult. Some people did the tri and then ran the 7 mile road race – maybe another year!! It is a really friendly event, quite low key and when you have finished there are loads of other events to watch and cheer on. Great when the weather is good!
Results are here (PDF file) but aren't formatted correctly. It looks like Lesley's overall time was 1:51:04