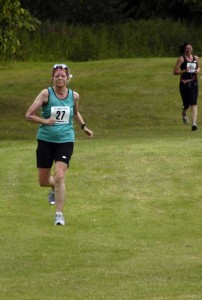 Lesley Pymm reports: For the last couple of years I have not been able to run the 7 mile road race at Much Wenlock as it has clashed with the triathlon. This year, however, the tri was on Saturday.
This was because a new swimming pool has been built at Much Wenlock and so the event is now a traditional format rather than point to point as it had been previously. The police were not keen on the cycle discipline taking place from the leisure centre as there would be so much traffic for the other events, so it was decided to do it on the Saturday. This meant that I could enter the road race again.
However, by the end of the tri I was doubting if I would run the next day. The revised course for the triathlon was much harder than the old one and it had been very warm. The tri did not start until lunchtime, so it was warmer than it would have been if it had been an 8.00am start. Even as I made my way over there on Sunday morning, I was thinking I would probably watch the events rather than run. My hip was a bit sore following the cycle ride! Anyway, I duly found myself standing on the start line (as you do) and off we all went, putting on as good a show as possible for all the television cameras. I have never known so much press/media coverage at events but as this is the forerunner of the modern Olympics and the games are on again next year there has been a lot of interest. I was interviewed by Reuters and La Figaro!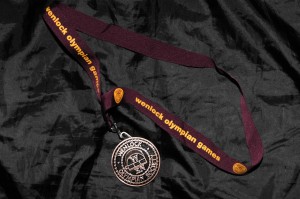 The 7 mile is hilly and it was warm again as we headed off. At about 2 miles I was wondering what on earth I was doing there, but it clouded over and I started to feel a lot better as it cooled. The second half of the event was so much better and I felt that I was running well. I took 1.07.10, a time that matched my 2006 time, so I was pleased. I also received a bronze olympian medal for my category.
This really is a great event – there are lots of children's track and field events taking place as well as fencing, archery, cricket etc for adults. For the first time this year there was a children's biathlon (aquathlon).