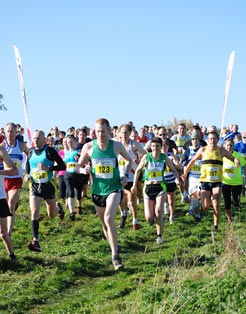 Andrew Halliday reports: Sunday 17 October 2010 saw the running of the Welcome Wobbler 10k. Following on from the Kingsbury 10k two weeks ago, I sought the guidance of Runners World to find a tough x country race to fine tune training ahead of the official x country opener in Leamington Spa on 30 Oct.
The weather conditions were absolutely perfect – sunny and warm – not at all like I remember x country races in Yorkshire as a schoolboy. The course was described as "Hilly", and 2 laps (slightly under 5k each according to my garmin). As this was x country, I made no mistakes with shoe selection and put the magic spikes on.
At the start I knew I was in for a tough ride. Phil Gould of Kenilworth was in attendance, and whilst I can beat him on road, he is a superb fell runner and very good on hills. As there were 4 tough hill climbs, I kept losing ground against Phil and the eventual winner, Jack Mee, and then trying to claw back the gap on the downhill and flat.
The last hill almost brought me to a standstill (I could have done with a ski lift to be honest) and once I saw how much the gap had opened even the usual sprint finish couldn't pull any rabbits out of the hat. When you are 200m behind with 400m to go you know you are in trouble!
I finished 3rd in 34m 10s. Well done to Jack and Phil. No excuses they were just too good on the day. But Phil is catchable, even on x country, and that will be my target when I race him again at Leamington.