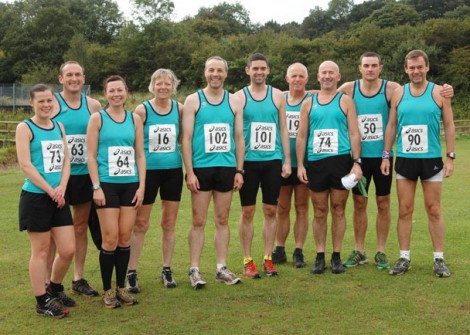 Lesley Pymm reports: There was a fantastic turn out from BvH at Waseley on Sunday.  This 8.5 ish mile multi-terrain run has been going for some years now and was well attended by local clubs. 
There is a loop around the school playing field, which was new and a good idea.  I have not done the race for a few years but had memories of getting onto the first path, just off the playing field, and having to queue behind other runners as there was no chance to overtake. 
By putting the loop in it meant that runners were spread out before they got to the path.  There was good support around the course, notably from Brian Pearson who (as usual) seemed to be everywhere shouting encouragement.  I don't know how he does it! 
I had to stop half way up one of the hills as a dog suddenly shot out in front of me with its' person on the other side of a stile and at the end of a very long lead that went right across the path of me and runners behind me.  Anyway, soon got started again. 
There were a few muddy bits on the course, so studs were a good idea. The weather was generally kind.  The sun shone and it was only on the tops of the hills that there was wind.  That is until the long downhill after a big climb when the wind really got up and it was hard work running down.  I had just started the climb up when I saw Sarah Rock on her way down.  She was nearly finished.
First woman was Emma Tod who is, I understand, joining BvH.  Sarah was second woman.  For the men, Sam Chatwin was 5th and Bradlee Tod 6th.  Stuart Pearson was 9th and Chris Tarren 11th.
This race also counted as the Worcester County MT Championships and Bradlee and Stuart both received medals in this as they qualified.
There were a lot more there as you can see from the photo and it was great to be part of such a strong team.  I am always proud to be a member of BvH, but this was more so on Sunday when they were doing the presentations. 
The main race presentations were done first and then Ian Clarke did the Worcestershire medals.  I thought that many other club members were so rude.  Some just left as they had got their prizes, but what was worse was that others stood around talking very loudly so that it was sometimes impossible to hear what Ian was saying.  Everyone from BvH who had remained for the presentations stayed for the county ones too, and we were all quiet.  I felt so proud.  Well done to all of us!