Lesley Pymm reports on a bit of festive running:
Walsall Arboretum Parkrun (25.12.2012)
It was lovely to get out for a run on Christmas Day.  I have managed to do a parkrun for the last three Christmas Days and the atmosphere is always good.  This was the third time I have run at Walsall, and it was lovely to be back there.  The course is a three lap one.  They say that when some work has been completed on the Arboretum it will be changed, but it is OK.  It is mainly on paths although some of them are deteriorating and it is more like trails.  There is a little bank which was very muddy this week, and then a bit of grass to run over.  There were various dog walkers out as well, and they seemed to think we were all a little odd!!!  I was pleased I went, even though it did start to rain and yet another load of wet kit hit the pile in the washing machine.
Wheaton Aston 10k (27.12.2012)
I think Mark Cooper and I were the only people from BvH at this race.  It is always a popular one and sells out before the event.  This was the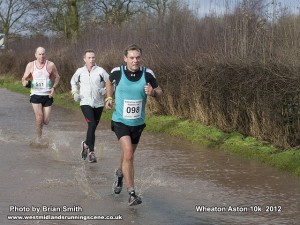 first year they had used electronic timing – although strangely it was only for the finish and not the start!  I picked up my number and chip and sorted myself out, then went off for my usual warm-up.  I discovered that the skateboard park that I, and a number of other runners, usually warm up on was very flooded, so it was a case of running part way round it and then coming back again.  Not quite what I had in mind, but I got a bit of a warm up done anyway.  It was on the way to warm up that I realised that the start had been brought a bit further up the road than usual because there was a massive flood where we would normally have started!
Eventually we were called to order and the briefing began.  It was explained that they had put a small loop into the route to make up the difference for the bit we were not running at the beginning, but had not had a chance to check the distance.  They thought it was about 10k. We still had to run through this flood at the end.  It was during the briefing that I suddenly realised that someone else had actually started the race, so my watch time was a bit off as I suddenly had to leap into action.  A runner next to me said: 'it's OK, it's chipped', but I explained that the start wasn't so we had better get a move on.
It was around the housing estate where some of the residents came out to call us on, there was a postman who was trying to do his round without any success – he gave up and shouted us on.  Then through the rest of the village and into the lanes.  There were a lot of tractors about on Thursday for some reason, but the drivers were generally very patient with us.  Some of the lanes were very wet and muddy, a woman near me slipped on some mud and went over.  What was irritating was the number of people who slowed down at the floods.  It was better once we had done a couple of miles and could run at our own pace.

This is a good course.  There is a drink station at about 3 miles (near a field of llamas), a few undulations but it could hardly be called hilly.  We all knew that we had the really long flood still to go and as I approached it a tractor came the other way.  This was great as he created a wave and I was able to see where the shallower water was.  Through the water and then it is only a few hundred meters to the finish.
There is a good, technical, T shirt at this event.  Mark was a bit quicker than last year and I was a bit slower.  Another good morning out.  The rain held off when we were running and it was good fun.
Lesley Pymm