Rachel Hursey Reports:You might have thought that Bank Holidays were there for having a lie in or a chilled day. But there is another option. Running 10k in Central London at 10am. On this particular Bank Holiday I was lucky enough to be one of six ladies representing BvH in the Simplicity London 10k. There were also six men from the club. Thanks so much to Jude for sorting out the admin for the race for the ladies. And to Stacey who let me have her place.
So I set my alarm for 5.30am, but woke at 5am convinced that I'd overslept and the race had already happened. I am addicted to the weather and kept checking and checking on my phone, but no matter how often I checked it was forecast to be 20C in London for the race and humid. Not really the weather I would have chosen. With this in mind I texted Nic Sykes, and she advised me to drink as much squash as possible up to an hour before the race and to add salt. But in my own wisdom I decided that I would have porridge with, two eggs, a banana, salt and cinnamon. If you are thinking about this combination in the future then think again.
I was getting an early morning train at just after 6. The station was so quiet and I had a whole bench to myself and listened to the owls. I enjoyed not having to queue for a coffee. Then I started on the squash and salt combination. The train was due in at 8.40 and before then I managed to have a whole two litres! And of course another banana (since starting running last May I have had a two bananas every day!). The train carriage toilet was became my personal en-suite as I visited it four times on the journey. My fellow passengers gave me some funny looks.
This was a particularly exciting race for me as I knew that my brother, sister-in-law, and three little nieces would be watching. There were stationed at the 1k and 8k marker by Charing Cross station. I had texted my sister-in-law very exact details and photos of what I would look like and whether I would be wearing sunglasses or a cap or not. (Final decision: I wore neither!)
It's a great route around the City of Westminster and the City of London. The course passes places such as Admiralty Arch, Nelson's Column, St Paul's Cathedral, Mansion House, the Bank of England, the Old Bailey, Somerset House, Big Ben, the Houses of Parliament and Westminster Abbey.
My train got into London Paddington and then I needed to get to tube across to Green Park. There was no danger of getting lost as there were so many see-through Vitality race bags. I started chatting to a lady from Reading and let her navigate! Green Park was packed when I arrived so I quickly got into race gear, deposited my bag, warmed up, and made my way to the start on The Mall. Considering there were so many other runners it was very impressive that all of the girls found each other just before the start. It must be the magnetic effect of teal!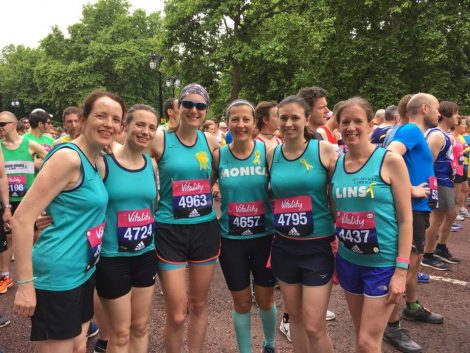 It was a moving beginning as we had a minute's silence for those that had died in the Manchester attack the week before. And then the race started. We were near the front in the blue wave so only had to wait a minute or so to cross the line. I remember that Linda said something very encouraging and then we were off. Straightway it was so loud from the spectators and bands.
Coming up to 1k and I heard a shout of "Rachel" from my family. I waved and felt so happy to be spotted. My little nieces had banners that they'd made. One said "Aunty Ra Ra", which is their name for me, and the other was pictures: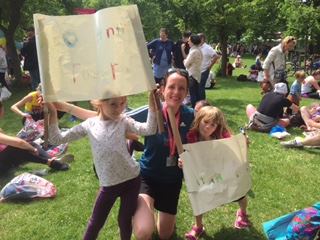 That felt great and gave me energy to keep going. But by 5k in the heat I was flagging. I was so happy to see Rhian and her shout of "good running" as she overtook me. I made myself go a bit faster and tried to keep up. Until 7k we were pretty much side by side and then I managed to push on. Without seeing her I definitely would have got slower as slower. At 8K I was ready to see my family again – I knew exactly where they were now so I shouted first. And then it was the push on towards the finish opposite Buckingham place. I had made it. 47 minutes 9 secs. I was so happy. 15 seconds off a PB. Not bad in the heat and I felt a real sense of achievement,
After re-claiming our bags and receiving our goody packs and T-Shirts we regrouped as Bournville Harriers by the letter B in Green Park. It was great to see everyone although we were all oozing with sweat. Matt and Henry did especially well to have got a PB.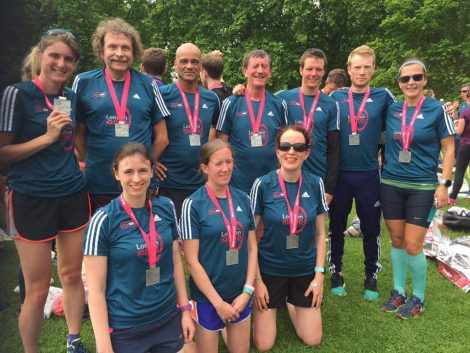 So next time if you are wondering what to do at 5am on a Bank Holiday get up, wear your teal, and go for a race!