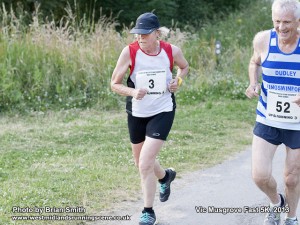 Lesley Pymm reports:  Another visit to the Telford area for the 5th event in the Sexarathon Series.  This run started from the Telford Hornets Rugby Club – where I had been before to do a M/T race that used to be organised from there many years ago.  This was a 5k road race.  Before the start everyone was keeping in the shade as much as possible.  It was very warm in the Rugby Club and cooler outside if you were selective about where you were!
After a short warm up I found my way to the start.  We were warned to keep over to the left as there were some bollards in the way on the right.  Not much else to worry about in the briefing.  This was a run on paths in Telford Town Park. two laps – the first being 2k and the second 3k.
There were a few slight undulations, enough to keep it interesting.  It was another fairly warm evening and at about 4k there was a man on the ground needing assistance.  I really do find it strange that so many experienced runners are not hydrated enough to race over short distances.
I was pleased with my time (26.03) and 1st W60.  One more event to go in the series, but that is not for a few weeks so it may be a bit cooler by then!