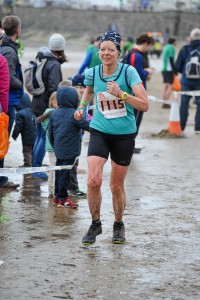 Lesley Pymm reports:  This is the new version of the old Tough 10 that used to be held in Weston-super-Mare.  I stopped doing that as there was too much road for me and it wasn't that tough!  When I saw that there was a new route, I thought I'd give it a go.  We decided to make a weekend of it and got to Weston on Saturday.  The wind had got up, and I was really pleased that I had not driven.  I have never known winds like it a sea level.  We walked up from the station and turned towards the hotel and found that we couldn't move!  It was great fun but very hard going – I just hoped that it dropped by the next day or there was no way they could run the event.  When we went out later for a wonder round town and to get some lunch, we helped a woman who had been blown over!!!
Waking up the next morning, it all seemed pretty still.  However, the wind did pick up a bit before the start, but nothing like the previous day.  We set off along the beach. which is pretty hard packed and easy to run on – nothing like the Grizzly, Suz!  Under the pier and along a bit before turning back and returning under the pier again and then up a slipway and onto a concrete path that skirted the beach.  After a while we were onto road and heading towards Sand Bay.  After a mile or so we dropped onto more beach.  It was generally easy running, although there was driftwood and other rubbish brought up by the tide, so you had to take care.
Coming off the sand we went along a muddy bit and then clambered up and over a wall before climbing a hill which eventually brought us up to a trig point that we touched and then ran along the ridge before dropping down again and running back through Sand Bay on a concrete path.  I would have rather run on the scrub next to it, but that was full of dog walkers who couldn't get onto the path owing to the runners.
We then started the only really big climb up a stoney path through woods.  It was enough to slow me down a bit, but still good fun.  Then there was the downhill where they had kindly given us a rope to hang onto as it was slippery.  I used the rope although I'm not sure I needed it as I had trail shoes on.  There were a number of runners using road shoes and they were suffering for it.
Down onto the road and then across and back onto the concrete path we had come out on.  We then veered off and onto a causeway that took us past Marine Pool before coming back up into Weston and finishing along the beach.
A good run that I would do again if it fitted in with everything else.  I know that next year it will clash with Stourbridge and I would rather do that as it is both closer to home and a harder run.  I was about 10 minutes faster at Weston than I had been at Stourbridge and that was down to the course rather than my running!