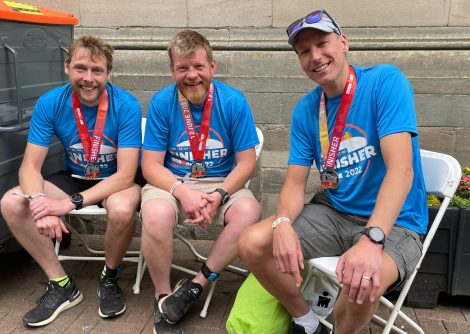 The logistics of the Stafford Ironman 2022 is an absolute nightmare, the day before you have to register in Stafford then rack your bike at the start in Chasewater, which is a 30 minute drive away.
Saying that, the registration process was very simple! queue up and have your number printed while showing your race licence and ID.
The ironman journey has been 2.5 years in the making, due to Covid and deferrals we decided to just "get round" in 2022.
Alarms were set for 3:00am on Sunday 12th June, on arrival in Stafford at 5am we grouped together and caught the Ironman bus to the swim start, Chasewater country park.
The plan was to start all athletes by predicted times, this went out the window and it was a free-for-all, get to the start ASAP!
We lost Sean at this point which meant the Outlaw trio were back wondering what the hell we were doing in the middle of the night about to start an endurance challenge which can take anything up to 8 hours 30 minutes!?
It took an hour queuing up to get to the pontoon where you dive in. The whole place was buzzing with nerves and excitement while shuffling closer and closer to the water, lots of great banter in the queue.
We're next!! were at the front with a countdown of 3,2,1. just as we said our good lucks I turned to my right and saw John slip down the pontoon crashing into the water he landed on his arse which had us both in hysterics.
We were off ! It was a mad dash to get going, feet, legs and arms crashing down on top of you, this is great !!! Thoughts were, just try to get into your own rhythm while making sure you can stay alive, get air and breathe….
I couldn't see which direction to swim but having someone else's feet about 2 inches from your face I knew I was on the right track !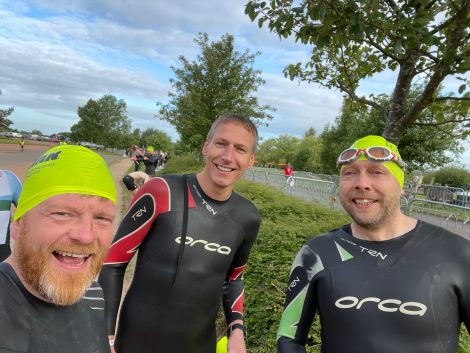 Swim done, I'm on the ramp where volunteers are standing in the water helping you get to your feet. I made it!! not knowing where the others were added to the excitement, are they in front, are they behind?
Out the swim you have to run along the carpet for about 400meters while trying to get your wetsuit off, it felt like we were running barefoot on gravel, ouch oww ouch.
Transition 1.
Get your cycling kit on as quickly as possible, take a gel and away you go…I saw Rich just as I was getting on the bike. We both commented on what a great swim it was and away we went. Cycling as hard and as fast as possible for the next 3 or 4 hours!
The bike course was advertised as hilly, this is an understatement, the course was extremely hilly !
I remember going up a hill around 34 miles and still going up at 38 miles !!!!
What goes up must come down, we enjoyed a bit of downhill to compensate for all the hills.
I'm sure I saw Sean while on an out and back, I shouted over but had no reply, either in the zone or I got the wrong person.
I spotted Rich not long after, we waved, no time for chatting we had hills to use our oxygen on.
My competitive side wondered how much time have i got on Rich, will he catch me..I better try and speed up which of course is impossible when you're out the saddle struggling up yet another incline !
No sign of John on the bike, he must be way in front.
Transition 2.
Bike done, that's 57.2 miles done out of 70.3, only a half marathon to run now! phew, that was tough.
Now to get a pair of trainers on as quickly as possible, legs are like jelly, heart pumping while the crowds are chearing you on, as you set off you realise your toes are numb and your feet dont want to run, I must of looked like Bambi on ice.
About a mile in I heard Kristy shout my name which gave me a boost, it's great seeing people you know, it really does help. (thanks for the support, Kristy)
About mile 3 I spotted Sharon and my mom and dad, I couldn't stop…I shouted but I knew if I stopped my legs wouldn't get going again.
Moments later I saw John, my first thoughts were can I catch him?

…I tried to push the pace but my legs wouldn't let me.
Only afterwards I found out John was working the maths wondering if I had a chance of catching him, I reckon that was his quickest mile
A few miles later I saw Sean again, he was running really well and only had about a mile to go, I managed to stick with him for about 400meters. I got to mile 9 relatively okay and then the wheels came off, I hit the wall, I was done in, I needed a gel, water and the loo!
I know I'll just walk and jog the last 4 miles….
The run course was flat for 3 miles and then a long drag up a hill followed by another hill up to Stafford castle which I can only describe as BvH's Killer Mile!! Oh and we had to do this twice !!
On the way back down I heard Rich call my name, I don't know where he got the energy from, I could barely lift my head to acknowledge him, I think I just grunted.
The end was in site, the famous red carpet where athletes get to hear the words (name) 'You are an Ironman'
I don't mind saying so but this was very emotional. Hands in the air with a smile stretching right across my face.
All the pain over the last few miles just disappeared ( for a moment)
I collected my medal, t-shirt, pizza slice and a cup of tea then followed the path until I spotted John and Sean slumped in a chair at the athletes chill zone, they had both been back about half hour.
Not long after, Rich came strolling round the corner with a huge smile, knowing we have all just completed a very tough half Ironman.
Congratulations to all.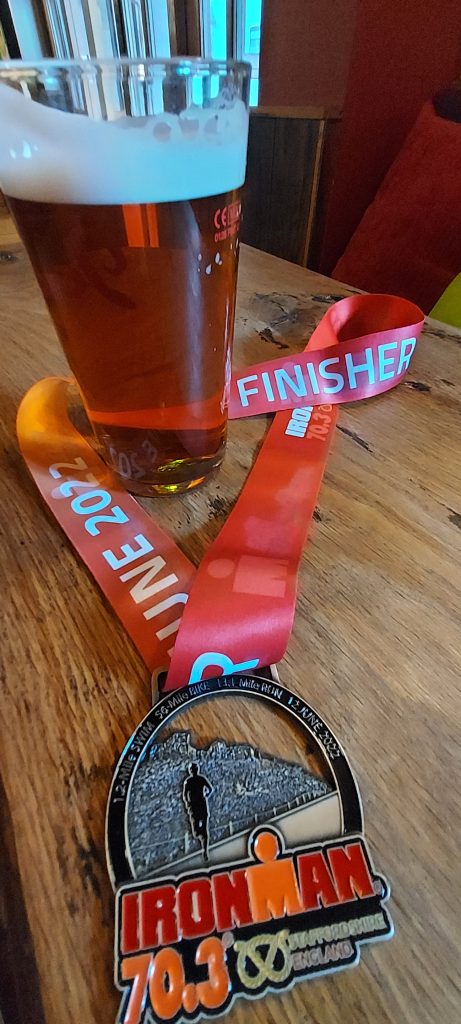 Hmmm what's next ?

Swim= 1.2 miles
Cycle = 56 miles
Run = 13.1 miles
Times in finishing order:
Sean Rose 5h 54m 45s
Swim = 54m 49s
Bike = 3h 04m
Run = 1h 38m
John McKeon 5h 56m 26s
Swim = 40m 58s
Bike = 3h 10m
Run = 1h 52m
Simon 6h 21m 10s
Swim = 48m 50s
Cycle = 3h 17m 58s
Run = 2h 00m Richard Rollins 7h 21m 36s
Swim = 47m 45s
Cycle 3h 44m
Run = 2h 31m