Jon Mould reports: The second part of this summer's trail double-header was three weeks after the trail marathon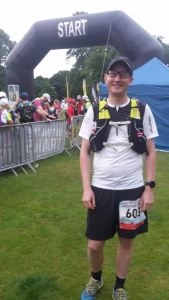 and this time involved an overnight stay in the Lake District.  This was the first time I had gone beyond 26.2 miles – it was only another 9 miles –  how hard could it be? Very very much more difficult!  Registration was compulsory the day before and after watching England win the World Cup quarter-final in an Ambleside pub, I was pleased that they had relaxed the kit requirements due to the hot weather.  No long sleeved baselayer, no waterproof trousers, no hat and gloves, no headtorch, just as much water as you could sensibly carry.  We stayed overnight at the youth hostel and another 5.15am start dawned bright and early, but fortunately with no rain like last time and some cloud cover to keep it cool – if only this had stayed for the whole day!
I felt fairly nervous on the start line mainly because I knew it would be the longest run I had ever done, and everyone was talking about the big climb at the start up to Kirkstone Pass.  This was known as The Struggle and I was determined to start slow.  I did, I thought, and felt relatively comfortable reaching Kirkstone Pass and the first checkpoint, managing to exchange cheerful conversation with others as we jogged uphill for around 4 miles.  Ultra lesson #1: Start slower than you think you need to, then slow a bit more.  Practise this slow pace in training so that you're used to how it feels.  A long downhill followed down the other side as we ran all the way to Glenridding and the bottom of Ullswater.  Although it was all downhill, you had to keep concentrating because the terrain underfoot was rocky and uneven, so you couldn't switch off.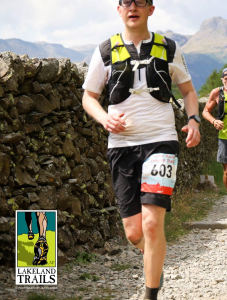 After the second checkpoint at Glenridding we headed up the second big climb of the day, following the edge of Grisedale Forest and up to Grisedale Tarn.  This was a mixture of running and walking where it got steep and technical, but again I was making good progress and it felt familiar from the limited fell running experience that I had.  As I headed back down the other side, the marshal said I was in 34th place, which I was surprised and pleased with, but it wouldn't last long.  The long descent into Grasmere seemed to go on forever and I was passed by a number of people who were much better going downhill on rocky terrain.  Ultra lesson #2: Practise going downhill with fast feet (or just be born a mountain goat?!?).   They made it look to easy, but eventually I got into Grasmere where I stopped for a bit longer than at previous checkpoints in order to refill my water bottles.  Ultra lesson #3: Learn how to refill and replace your water bottles.  I was using two soft flasks which fit into the front of the shoulder straps, but it took me so long to get them back in to the pockets that I must have been stopped there a good 10 minutes with many other people having come and gone.
As we left Grasmere, I hit my first real low of the race.  The blazing sun was now out; I was running on my own and we were going up and round Silver Howe.  In comparison to previous climbs it wasn't that big, but I found it extremely hard and 19 miles into the race I was really struggling.  I slowed to a walk and just tried to keep putting one foot in front of the other.  It was hard going uphill, but when it flattened out again I didn't feel like I had the energy to run again and didn't want to go downhill either.   It's interesting looking back, because at that point in the trail marathon I had felt fine but in the ultra, knowing that I still had another 15 miles to go felt quite demoralising.  Ultra lesson #4: Respect the terrain.  During the race I would check my watch from time to time, and compare with how I was doing at similar points in the trail marathon, but the terrain underfoot was so much more technical and it was so much hotter that you just couldn't compare.
The rest of the race was a bit less memorable for me and I recall it as a hard slog where I just tried to keep going forwards at whatever pace I could manage.  I started chatting to a guy and running with him for 3 or so miles which I found really encouraging and took my mind off what I was doing, but he was in better shape and much more comfortable than me which meant I went a bit faster than I probably should have at that point.  Ultra lesson #5: Run your own race.  Although it helped mentally, I think going quicker whilst chatting then set me up for a big slow down in the latter stages of the race.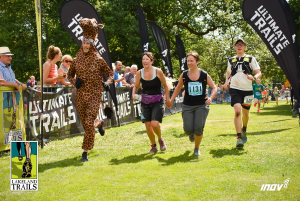 I got to marathon distance in around five or so hours, but still had another 9 miles to go and it was really heating up.  Unfortunately there was not much shade on the course as a lot was on open hillside and footpaths.  I enjoyed running/walking through Langdale valley but found the climb over Loughrigg and back down to Ambleside incredibly hard.  It was hot; I was tired and most of the last 5 miles I just wanted to stop.  However, when I did stop, I felt worse than then I was moving forwards so it was a combination of jogging a bit and running a bit.  I don't remember a whole lot of the remaining distance other than that I didn't really want to be out in the midday sun and feeling annoyed that as my watch ticked over 55km I couldn't see Ambleside where the race finished.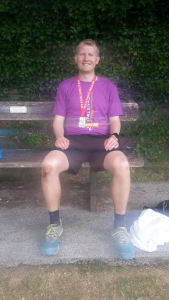 Eventually, I did return to Ambleside and as I entered the park and turned the corner was tapped on the shoulder by a man in a giraffe costume who attempted to cajole me into a sprint finish.  He was leading the children's race and it was just a little bit surreal after 35 miles out in the sun, but I managed something of a sprint shuffle.  Sitting/lying down in the shade afterwards was the best feeling and lots of water and an ice-cream was very welcome.  I finished in 7 hours and 32 minutes in 49th place, and whilst I had this lost a lot of time and places over the second half, I was pleased to have completed my first ultra.  I feel like I've learnt some important lessons and even though it was tough, I know the heat was a big factor and I'll definitely be trying another one in the future!