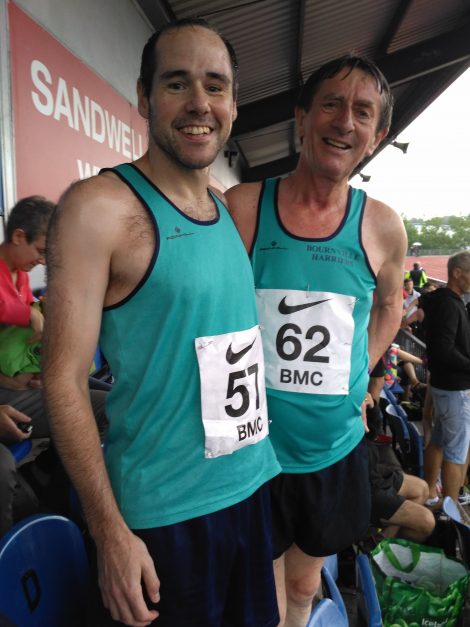 From Dave Powner: On my third visit to the Tipton Sports Academy, I was pleased to find myself in a race with 11 other runners from a mix of age categories, ranging from U13F to V70M, rather than all teenagers as I had faced on my two previous occasions. I would be joined by Barrie Roberts, where we faced 3 BRATs, plus representatives from 7 other clubs.
There were three different advertised start times for this event, and I was advised of a fourth upon my arrival. It didn't start at any of them. Although I should say that the whole meet was otherwise very well organised, I even enjoyed my time queueing to collect my race number; the good humoured official doing a great job of putting young and old athletes alike at ease.
A sudden downpour caused a further delay, and tested the quality of the track drainage. So after a slightly rushed warm-up, we gathered in the start area. Barrie was doubled up with another runner in lane 8, as was I with an experienced young track athlete with in lane 6. This would prove handy, as it meant I would know exactly when to break lanes. The pacemaker was intending to do the first lap in 72 seconds, so I wanted to be two or three seconds behind him at the bell.
The timekeeper at the bell chanted the seconds elapsed; I was slightly inside my intended split, and still feeling good, but cautious. I waited until the home straight to step up a gear. This took me past a BRAT, and into second place. The leading BRAT was too far in front to consider catching, but I crossed the line taking over 5 seconds off my PB. Barrie came in finishing strong with a Season's Best.
It's the end of the summer season, so I have unscrewed the short spikes for now, and replaced them with my 12mm XC ones. Now I think I know what I'm doing on the tartan, maybe I'll do some specific training for one or two track distances next summer!