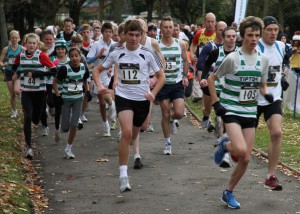 Mel James reports: November is really not the time to run a fast 5K, but when your son lays down a challenge such as "I think I can beat you now, Mum" you just have to respond!
Before we knew it, we were lined up as Mum v son, Bournville Harriers v Brats, in perfect running conditions in a park in Tipton.
As expected the race was well supported by Tipton Harriers athletes and two of their members led from the start, the eventual winner being Phil Nicholls, finishing in 14.26. Not bad for a Sunday morning in November! Josh Lilley, although eventually some way behind, finished in a very creditable 15.13.
But onto the real race! Chris and I set off at quite a pace then soon settled into a rhythm just behind the leading lady. There were plenty of people to chase and the course was one of the flattest I have ever run. The route consisted of one small loop around a park, followed by 2 large loops that incorporated running in the park and on the surrounding roads. By the start of the 2nd large loop, Chris saw his opportunity to overtake the leading lady, pulling me along with him.
Despite thinking, "he's going to slow down in a minute", Chris continued to run well and finished ahead of me (yes! how very dare he?!) in a time of 18.12.  This was a PB for Chris and he was deservedly pleased with his run. I finished a few seconds behind in 18.18 but was first lady which took a bit of sting out of the result! Chris unfortunately didn't win a prize for first U17 as the leading runner in this age group finished 4th in the race in 16.08.
Chris managed to be a gentleman all the way home in the car and didn't gloat at all. I think it must have been the threat of no more Sunday lunches ever again!  For me, I absolutely loved running with Chris and had a great morning. It's a good course, very well organised, quite low key despite the quality of runners at the front and I would recommend it to you for next year.
Results here (PDF)