Suz West Reports: This was my third year at Conti thunder run 24. The race is held in the lovely grounds of Catton Park Derbyshire. The race starts at midday on Saturday and finishes midday on Sunday. The last two years I have been in the Bournville Harriers Fruit and Nutters team (the original BvH team) and this year BvH had three teams. Cannon Hill parkrun also had two teams all of which camped together so that was near enough 50 people from our running club and cannon hills parkrun teams taking over a part of what is known as camp site B. This location was brilliant as it was on the track the runners run the 10k loops on.
So if you are a team you take it in turns to run passing each other a baton well a sweaty wrist band! The idea get as many loops done in 24 hours, the team who does the most wins.
Then there's the solo runners, same idea but just one runner. For the last two years I've watched these runners an the solo runners get so much support from the teams it's amazing. As a team runner the previous two years I always cheered them on "well done solo" .You know who is solo as they have red numbers and often some kind of writing down their legs to state it –  also so the speedy fast team runners know the reason they are plodding! So for two years I've loved the team but I always envied these solo runners thinking they are slightly crazy but also admiring them from a distance.
Entries for Thunder rRun fill up fast in October and this year I was at college but I had made my mind up enter solo. I wanted to know what it's like to be an ultra-runner! Could I push myself to the limit? First problem was entering – I quickly got help off another tealster wanting to try solo (Antony Stewart) and signed us both up. Also in the madness my team mate from the nutters Mark Doudican signed up to.So there was the start of our teal solo adventure!
The weekend had arrived and we set up camp in the solo area, solo runners have the camp site closest to the start / end of the route for quickness. Originally, well actually right up until I started, I had a crazy idea I would try to win the female race. So after a night of going to see the rest of the gang at campsite B the morning had arrived. I had a feeding plan to separate my food one lot I dropped off at the bvh camp and each time I passed I fueled up. Guy Marston ( Staceys husband) became my person assistant each time ready with a salt tablet , water , gel and my bag of food! Thank you guy I really appreciate your help. This was 2.5k at 9k I had Arrow valley parkrun gang who I have got to know through the track and the tri club I joined. They also kept hold of my other lots of food! Good plan hey.
The klaxon sounded and we were off, the three of us on our first solo adventure – one full of ups downs twist turns and Barry the Blister! I already had planned to run with Helen Lawrence and we were joined by Philomena for the first lap. I knew if I went alone I would go to fast and needed help from lap 1. They did a great job of pacing me and I really enjoyed their company. Mark and Antony were right behind too and we all cheered after our first 1k! Emma Hopkins was running lap 2 for the nutters so I ran with Emma but I was already starting to feel a blister which we called Barry. The course is technical, through woods with twists and turns up hill and down all off road. 8k is my favourite point and turns out quite a few peoples as you come from the woods you have the best view and know you will soon be running through campsite A. I was now worrying a bit I had company for two laps could I control myself and stay at a sensible ultra-pace. Emma left me with some useful advice and said I had 23 mins to get to team teal any quicker really was too quick! Thank you Emma.
Lap 3 now I considered myself solo I had it written up my leg courtesy of Laura Gale I kept getting "well done solo" It really was amazing. Thunder run has a way of when you're on your own if you want company you find it if you need to be left alone then that happens too. So I was very happy to make friends and do lap 3 with a guy from Penny Lane striders – as you may have guessed he is a scouser. He also was first time solo having ran the previous two years with his club mates. We were chatting away when he suddenly told me I have party food in my bag sausage rolls, sausages etc now I started to think oh I have gels crisps, jelly babies have I completely messed up my fueling? He also had sticks for when it got tough – Antony had also packed these. I have never used these walking sticks so didn't think of that We seemed to have sped up talking about running races in Liverpool and Birmingham and our clubs, marathons and food. He also wanted to do 16 laps, my original plan. I would see this fella again on my final lap which I will get too. I had my first break which is a lot more relaxed than the team hand over. Just walk off and back on whenever you want. I changed my trainers and top but not my shorts which I later discovered to be a mistake.
I was off on my next round of laps. I had the idea do three again and change so off I set. I felt good I was getting use to "well done solo" On my laps I was being passed by plenty of BvH giving me loads of encouragement. I stopped to change after lap 6 by this point I had seen Antony and Mark earlier in the solo field as I ran past. They had a plan to do more laps in the night. I got changed and set off again with chaffing in places I didn't know chaffed!! Lap 7 was the start of having to use head torches on the course. This is always great fun although I started to struggle. Now I'm not sure if it was as it was night but I really had to concentrate to make sure I didn't trip. I had seen plenty of other people tripping up. My head started to hurt but I kept going. At 9k were the Redditch crew who were helping me out – they were having a pizza and persuaded me that I needed a piece of it. I'm not much of a pizza fan in general but I ended up run walking the last 1k of the lap eating pizza! This however was another mistake as now as well as a pounding headache I started feeling sick. I came off the course then walked back on then walked back off. I was at a bit of a loss of what to do run it off. Sleep it off? Or just walk? I went back to the tent my legs seemed to be giving up now I really didn't know what to do with myself. So when Antony appeared I was so happy although I'm not too sure what he made of me rolling about in my tent. He was struggling a bit too. So we came up with a bright idea walk a lap!
Antony got his sticks ready, mean while I was told I was in 5th place. This was a boost but I also knew I couldn't run, not yet. We plodded onto the course not feeling the best when just at the right time Mark appeared who was on some kind of high, he had made the discovery that he was great at power walking. Mark was really enthuastic at this point lifting all our spirits so we began the walking lap. Just one problem I discovered I couldn't keep up so dropped back. Like I said before Thunder Run has a way of helping you out I ended up walking a lap with another guy Justin he was in a team of 5 but only 3 turned up. Again we spent the lap swapping stories talking parkrun and trying to figure out what was our left and right as the speedy runners shouted from behind. I wasn't really feeling any better for this walking lap. Although I did enjoy Justin's company. I decided to come back off after this lap. I set my alarm for an hour to see how I felt, not good was the answer. Then another hour I was lying down but pouring with sweat I really considered going to the first aid tent but decided there probably wasn't much they could do. I choose to just try and get some rest and if I felt rubbish when I woke up to just stop.
So after a longer break than originally planned I was awake and felt not too bad, was I just exhausted, heat stroke or is this just a thing in ultras? I grabbed a coffee and a bacon roll – I was feeling good now, had a second wind and wanted to go. Antony and Mark were also getting ready and I left them getting ready for their run and set off. Yay! My legs worked and I was running again – I went passed people who had got to know my name by now after having ran with it on several tops. Go solo Suz was being chanted out at different points I was on a bit of a high now. When I got to the team teal point I said Im planning to walk my last lap please get me a coffee for next time. I carried on with this lap probably my best lap but for some reason nearly bursting into tears at various points. Emotional tiredness had caught up with me I think and the support all around the event was amazing so it was a happy nearly bursting into tears! I ran over the timing mat onto my last lap I did run the start of it but I was struggling slightly plus I knew this was it. I got to my cup of coffee, provided by my personal assistant now Guy! Helen asked if I wanted her to come with me yes I did I started with Helen so it was nice to finish with her and also here all about the team's adventures. This is the lap I passed the scouser bloke he never got to his 16 neither did I but I didn't quite realize what I had let myself in for. He made it to 13! I walked to the end of the lap with the crowds now formed now being a soloist carries with it a special kind of support amazing "well done solo runner, you've done great solo" and other shout outs. I finished got a massive cheer and plenty of support waiting for me! I promptly drank Claire Mullin's beer which if Carling made weekends this would be the one!
Hope you made it to the end of this but a 24-hour event is a lot race report! So for those BvH not experienced in Thunder Run I highly recommend it the best event ever.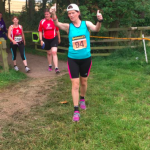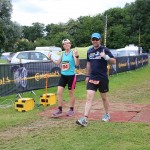 Solo Suz!