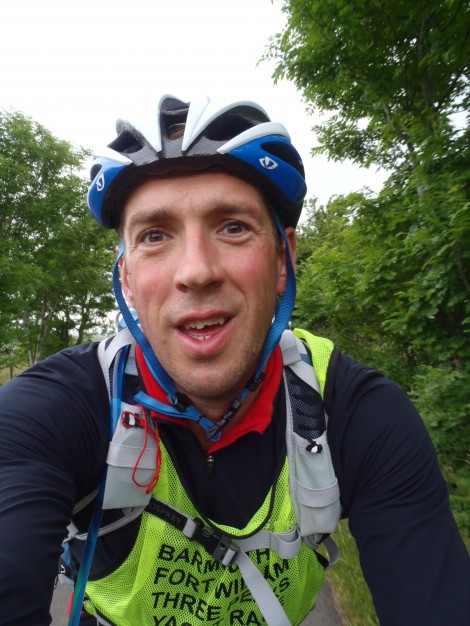 Mike Berry reports from this unique, epic, slightly bonkers, sailing, running, biking event.
I was lucky enough to be invited to participate in this race due to the late injury of a runner with the team aboard Kithross II, a 31 foot twin keeled Moody S31 from Topsham Sailing Club. Skippered by owner and highly experienced yachtsman Bill Ricketts the team of 5 was made up by sailors Neal Ricketts and Richard Stevens and myself and fellow experienced runner Colin Ricketts, who was a veteran of 8 previous races.
The race is a continuous multisport challenge that consists of the following:
Leg 1
Sailing Barmouth to Caernarfon (62 miles)
Run from Caernarfon to Summit of Snowdon and back to Caernarfon (24 miles, 3993ft of ascent)
Leg 2
Sailing Caernafon to Whitehaven (100 miles)
Mountain Bike from Whitehaven to Ennerdale (13miles)
Run to Summit of Scarfell Pike via Blacksail Pass and back (26 miles, 7959ft of ascent)
Mountain Bike Ennerdale to Whitehaven (13miles)
Leg 3
Sailing to Fort William (220 miles)
Run from Corpach dock to Summit Ben Nevis and return (17 miles, 4465ft of ascent)
The start out of Barmouth was at 1600hrs on Saturday 19th on a beautiful afternoon. The crew who, apart from Colin, I only met the previous day made me very welcome, and my lack of sailing ability seemed no problem. The first wave of nausea hit me when I went below to put on waterproofs, but this quickly settled once back on deck and with a little help from some of the anti-sickness drugs I had brought.
The planned time for the fist sailing section was 12 hours, Colin quickly showed his experience by sloping of to his bunk and was fast asleep within 30 minutes of the start. The excitement kept me awake until well into the evening until I realised that it would be running in a few hours and I left the sailors to the work.
I was woken at 2am to be given a 2-hour warning of landing at Caernarfon. A quick breakfast (chocolate bar was all I could get down) and we were off. A straightforward 8-mile run in from Caernarfon on the road to the south joining onto the ranger path and we were off up the mountain at the break of dawn. An uncomplicated ascent to the summit was rewarded with spectacular views as we rose above the cloud base at about 1800ft. There were already quite a few walkers on the summit so we "dibbed" and dived back down the LLanberis path, which was fast non-technical trail and then followed the road back to Caernarfon to complete the 24-mile run in 5hrs05.
Straight back onto the boat for one of the most difficult passages of sailing through the Menai straights between the Welsh mainland and Anglesey. 2 of our fellow competitor had run aground in this narrow tidal stretch but our crew showed great skill and made the most of the shallow hull of our boat to slip past them and out towards Whitehaven. Once clear of this stretch Colin and I headed below and crashed out in preparation for the following day.
A leisurely arrival just before 9am saw us start the longest of the mountain sections. First up 13 or so miles of non-technical mountain bike up a disused railway from Whitehaven to Ennerdale, climbing about 700ft. The bikes are left at the Youth Hostel in Ennerdale where the main business of the day begins. We head up from there to Blacksail hut and then over Blacksail pass at about 1800ft and then drop back down into Wasdale Head. Our timing is pretty bad as we find ourselves ascending the rocky summit to Scarfell pike in the heat of midday on the hottest day of the year.
Towards the top Colin's back, which has been giving him grief all morning, loosens up and we start making good progress completing the Scarfell section in 2hrs50 but we still have to get back over Blacksail and down to Ennerdale which becomes a bit of a grind.
We reached Ennerdale in a little under 9 hours, thoroughly fed up of gels and Powerbars we make the bold move to switch to Mr. Kipling's cherry Bakewells which lifts moral no end. Back on the bikes and a steep climb out of Ennerdale is rewarded with a long fast descent back to Whitehaven to complete the leg in 9hrs44. The crew allow, even encourage us, to take 5 minutes to shower at the marina, which is refreshing, for us and all with a 10m radius, and then back onto the boat for the longest of the sailing section.
Both of us runners were blissfully unaware of events of the first 14 hours of this section, sleeping only interrupted by feverish eating intervals. Light winds made difficult progress and we were unable to make against the tide around the Mull of Galloway so we had no choice but to drop the anchor and wait for the tide to change.
A not unpleasant morning was spent fishing, with no success, some weight training – trying to haul in 60ft of anchor chain – and a spot of light rowing – trying to row a 5 tonne yacht around the Mull of Galloway to catch the change in tide. Luckily by this time I had utmost confidence in our skipper so did not raise any objections when he ordered us to row out into the rough water and he was proved right as we bobbed like a cork around the headland we had made no progress against for 6 hours.
The wind proved light and fickle for the rest of the sailing but did manage a last surge to bring us safely through the Corran narrows and up the loch past Fort William to dock at Corpach at 2300hrs, a night time run up Ben Nevis looming.
We set of in fine humour the thrill of running up a mountain at night flushing away any fatigue, that is until about 4100ft up when we crossed the snowline the barmy Fort William evening was long behind us, footing was difficult on icy rock, visability about 2-3 metres and it was cold. It took us some time to find the triangulation point even from the observatory ruins only a few metres away. Pleased for the fist time to be carrying 7kg of mandatory kit we put on all of our spare clothes, took a compass baring to where we knew the path should be and made best speed for a descent but there was no prospect of running in these conditions.
Colin was struggling doubly with the poor visibility as he was wearing glasses in horizontal, freezing rain. I was more than a little pleased to drop back below the snow line and as we dropped back below 3000 feet the path became less rocky and we were able to get back to a gentle run, the combination of this and an abrupt rise in temperature improved spirits and Colin's sense of humour returned as we jogged down the last couple of thousand feet dodging rocks and a plague of frogs.
Our loyal support crew of Colin's Mum, Bridget, and Aunt, Sheila, were at the bottom with most welcome hot sweet tea with brought moral up enough for the final few miles of running back to Corpach. We finished just after dawn in 5hrs48 with the boat crew cheering us home. No shame in drinking beer at 0500hrs with 4 Eccles cakes for accompaniment and swiftly unconscious.
Definitely a race to do before you die but be careful, it is like a drug and your life might not seem quite the same afterwards.