Laura Gale reports: Three Forts Challenge is a friendly low-key event not far from Brighton in Worthing. Described as 'The Tough One' the route is off-road with varied rough terrain. There was a full marathon, but my sister and I did the half marathon.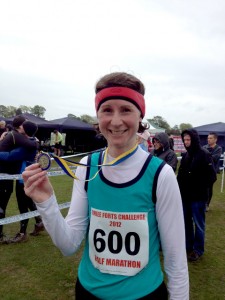 There were 600 runners warming up in a very cold, wet and windy sports field not far from the sea. 300 for the full marathon and 300 for the half. As soon as we were off we hit a steep hill – this really set the tone for the rest of the course: very steep uphills followed by very steep downhills.
There was a total climb of over 1000 feet for the half marathon on extremely muddy footpaths, over stiles, across sharp flint lined fields, through ankle deep puddles and along wet cow-parsley lined tracks.
Plenty of friendly drinks stations with chopped up banana, cake and sweets along the route – I gravitated towards the jelly babies. These were much needed!
The highest point of the run was completely in the clouds and you could only just about see the fluorescent glow of the runner in front of you – very eerie and atmospheric, but no sea view. Lots of camaraderie as we battled the elements to stay upright and move in a forward direction. Shoved my remaining mangled jelly babies in my mouth and really went for the final 3 miles downhill.
This was definitely not a pb course, but the South Downs are so beautiful that it was a real pleasure to be slipping and sliding around up there for a couple of hours. A medal  from the Lady Mayoress and cake at the end. I recommend this race if you like a challenge – it certainly was tough! Finished in 2 hours 8 mins 59 seconds.