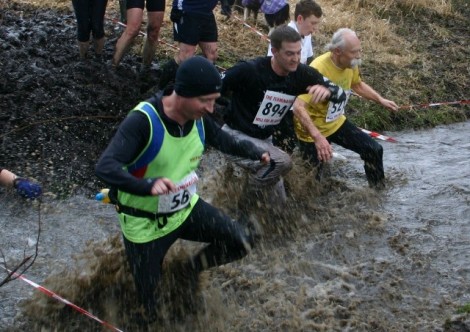 Sarah Rock reports: The sun was shining and I was looking forward to the 11 mile race dubbed 'The Terminator' through the Wiltshire countryside (that was until I saw a bloke dressed up as Arnie, complete with ammunition strapped over his shoulder and face paint!).
I noticed that there were few club runners, but was then let into the secret that many do not don their club vests as it is so muddy, the mud can never, ever be removed….
So despite many around me wearing tights and long sleeves, I set off in my BvH vest and shorts, telling myself I was still a hardened northerner at heart. After a couple of miles of farmers' fields, muddied by recent rain, we hit the first ditch – finding it deep but short (think Senneleys), I thought this doesn't live up to the horror stories I'd heard, until I got through it and found there was no bank back up, just thick clay-like mud to wade through– the man in front of me lost his shoe and I realised why. My right leg went in and I literally thought I'd never get it out – I pulled with all my might and it came out, shoe still attached but severely loosened.
We got to the first hill and the initial incline was so steep and muddy that there was a rope to use to pull yourself up the first 20 yards. After that you were on your own and I realised that the only way to stay upright was to walk on all fours, literally grabbing at the muddy hill with your hands. The incline slightly eased further up but by then everyone, and I mean literally everyone, was walking. Rather than just reaching the top and running on, the organisers had thought it would be fun if we then had to leap over a pile of hay bales!
Next was The Gully – literally running up a muddy stream because the banking was too steep either side to do anything else. It was then that the weather started to turn and sun turned to wind, then wind to rain, then rain to hail – how I wished I'd worn my helly hanson! More running through clay-like mud across farmer's fields and then three more big, and I mean walking and scrambling type hills, were encountered. It had started to become a surreal experience, rather than racing by this point – my garmin reveals that I was 8min miling on the flat but clocked a record 12.36min mile for the biggest hill.
As any thoughts of racing had been erased, people chatted to each other and there were two other women running near me which was great camaraderie. When the garmin beeped 10 miles, I announced it to anyone who would listen and then was given a big BvH shout by a spectator who appeared to recognise my vest – this spurred me on to the top of the hill, but then I came across the most treacherous descent – called the Bob slope, I think its because there is the potential to slide like a bob sled down it if you slip. At this point, your shoes are so full of mud that you fall on nearly every step – I did a very good bambi impression and despite getting some severe bramble scrapes, I made it through the next few miles.
Nearing the end, was the most tortuous part – making us run along a narrow ditch/stream full of mud up to your knees and water up to your waist, for about 50 yards. I thought I'd never get out with my shoes intact and was grabbing at the bank on either side to stay upright – suffering nettle stings because I'd been too hard (or stupid!) to wear my gloves! A further run across a river then brought us into the open field to the finish, where I started to gain on a crowd of men – "oi, we're being beaten by a girl" came the shout, and my reply of "come on then boys", egged on a few of them to race me to the finish.
We narrowly avoided collision with a toddler who in over-enthusiastic support ran onto the course, and with Aaron screaming at me to sprint and beat the men, I managed to fall over the line, battered and bruised with mud all over me, to find I was the 4th senior female home, in a time of 1.53.07.
I thought I'd seen unprecedented levels of mud at the national cross country champs last week, but this was without a shadow of a doubt, the toughest race I have ever run. Having said that it was an amazing, enjoyable, experience and I shall be encouraging the bvH ladies cross country team to run next year, as there are male and female team prizes, as well as a club prize for first 8 runners home.
Photos to follow here. Some here also.