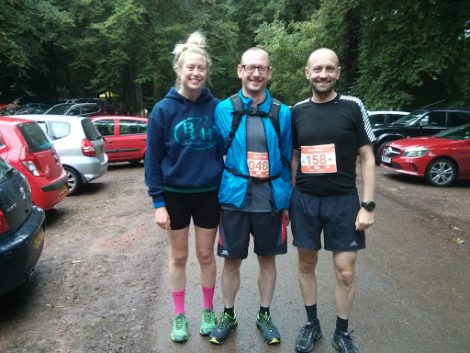 Aine Garvey reports on a successful trip to the Wye Valley: Me, my partner Rich and friend Symon had signed up to do the shorter of the three races that day (6.5k) and decided that even if the weather was as terrible as it was scheduled to be we wouldn't be out in it for too long. It was a little drizzly when we arrived at Symonds Yat Rock, but no one there seemed at all bothered. The Forestry Commission managed site had plenty of parking and clean loos which is always a good start. All of the racing activity was set up in a little dell next to the car park. There was a fantastic atmosphere with people chatting and trying to negotiate the patch of mud in front of registration. Most of the runners there seemed to have signed up for the longer distances, either 11k or 21.5k.
We gathered for our pre-race talk that informed us of the various turn offs we would have to take. I took the opportunity to have a look around and noticed that there weren't many runners taking part – just over a hundred maybe – which was a bit disappointing. At 10am the klaxon sounded and we set off uphill out of the car park to the viewing point. This was Rich's first 'proper' race so we started off steady at the back. I've been trying to get Rich running for years and his recent interest in parkrun has less to do with me and more to do with his obsession with Strava. So thank you Strava, I guess?
We came to a standstill once we got to the narrow steps leading us down to the trail, but it gave us plenty of time to enjoy the beautiful views of the Wye Valley. The poor race photographer got stuck behind us with his mountain bike, but Rich and I, saints that we are, let him go ahead of us. Once we got on the trail, it was all downhill for a while. The surface was a bit rocky but not too muddy. Our last minute dash to Decathlon the night before to buy Rich some trail shoes stood us in good stead and we passed quite a few people at this point. The trail evened out after about 1k and we could really enjoy the magical forest atmosphere. At 2.5k we reached our turn-off and headed straight uphill again. We also noticed that we were pretty much on our own. We passed one guy who had decided to walk the 2k long incline but Rich and I tried to run/walk it as much as possible. I was definitely the weakest link at this point and walked more than ran. From about 4k onwards it was downhill or flat but Rich and I had both misread the profile graph before the race and were convinced there was another biggun coming up. Once we realised our mistake we started to pick up the pace but we had already been passed by two women. Little did I know I was saying hello/goodbye to 1st and 2nd lady. I had been in the lead for most of the race and had no clue!
Most of my sentences begin with the words 'Syksie says…', and the last bit of the race was no exception. I recalled our last Kenyan hills session and shouted at Rich to lean forward on the last downhill section – we were flying! We crossed the finish line together and went to find Symon. He'd only gone and won it! I saw the two girls who had passed us who informed me of my 3rd place finish. There were only prizes for 1st place so I had to look on in envy at Symon's extra medal, Camelbak bottle and fancy running socks. The rest of us got a nice non-technical t-shirt and hefty medal. Since so few did the shorter race it was all a bit quiet when we finished so we grabbed some cake, took some heavily filtered post-race selfies and headed off. The next morning we found out that Rich was 3rd man. His first official race and he finishes 3rd. I'm not bitter.
I would definitely recommend this race for the great location (there are other Maverick races in other beautiful spots around the country), friendly organisers and atmosphere. From looking at the post race photos it seems the further you ran, the better views you got. It was not too technical either so good for those who aren't massive fans of mud or slippery tree roots.