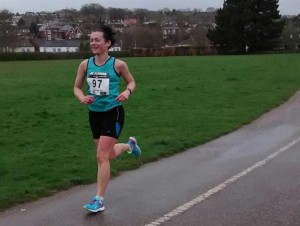 Having been invited to Devon for Easter with my parents the first thing I did was find a race to kick-start the bank holiday weekend with! The 'Fast Friday 10k' consisted of four loops on tarmac around a park and manmade river. It was very well organised and contained a mixture of club runners and fun runners with 126 competitors in total.
The course was very flat with just a couple of short rises and one hairpin turn. The only downside was the wind which, on such an open course, required extra effort along the one long stretch by the water. The third lap was for me the toughest and definitely where I lost the most time. However, I was delighted to finish third lady in 42:49 pretty much equalling my pb, which hopefully bodes well for the Summer. The lady who won, from Cornwall AC, finished in 35:14 and 3rd overall so a very impressive win!
If you're ever in Devon for your Easter hols then look this one up. It was very well organised, well marshalled, flat and fast as advertised and had a really nice friendly atmosphere. Oh and there was a Cadburys Crème Egg for all the finishers, pretty ironic as I'd travelled 3 hours to escape from Birmingham!