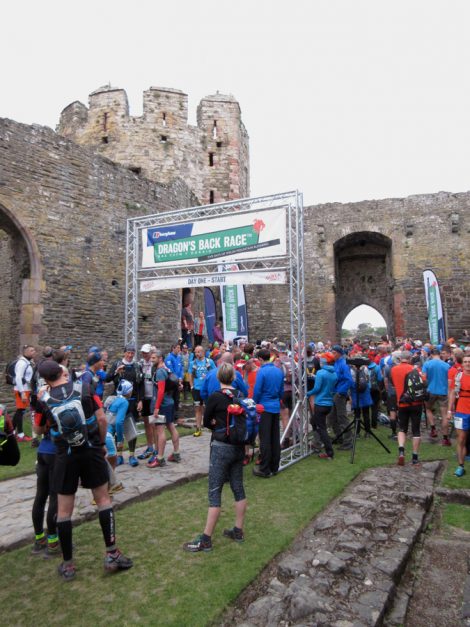 Stuart Mugridge Reports: For those of you that don't know The Dragon's Back Race is billed as "the toughest 5-day mountain race in the world" and "follows the mountainous spine of Wales from north to south. […] 315 kilometres long with 15,500 metres of ascent across wild, trackless, remote and mountainous terrain." Not a bad way to get into ultra running…In detailed numbers the days are as follows: Day 1, 52km and 3,800m of ascent; Day 2, 58km and 3,600m of ascent; Day 3, 71km and 3,500m of ascent; Day 4, 71km and 2,400m of ascent and Day 5, 63km and 2,200m of ascent. Each day had a midway support point where competitors could access their support bag for spare clothing, food and medical supplies. I made a habit of changing my socks at each opportunity to keep my feet in best condition.
Spoiler: I didn't manage to make it anywhere near the end of day three but I didn't go home and continued as a 'non-competitive' runner with a good half day on Day 4 and a very enjoyable Day 5. I'm not sure I have read a race report before on the club website where the race wasn't completed but here goes!
I was very pleased with how I did on Day 1 through the mountains of Snowdonia (including all the 3000fters); all went well including navigation and nutrition. We set out from Conwy Castle at 7am accompanied by the sound of a male voice choir and much cheering before a short section of running along the town walls and then out into the countryside. The weather was good through to Ogwen Valley with excellent views out over to Anglesey and even (just about) the Isle of Man. Larks were singing and the cuckoos were calling from the valleys—all was well. Climbing up Tryfan immediately after the support point the weather began to turn a bit and the cloud came down for the section through the Glyders to Pen y Pass. Foregoing the temptations of the café I continued on and up and over Crib Goch (the knife edge bit that makes all the headlines) we couldn't see a thing (I was disappointed, lots of people weren't!) and these conditions continued over Snowdon and its subsidiary summits. Navigation was a bit tricky on the descent but I made some good calls and found all the checkpoints without too much trouble (unlike others). I trundled down into camp stopping the clock at 12hours and 1 second – that one second meant I was supposed to start at 6am rather than 6:30am the next day. I was tired at the end of the day but able to eat well.
I was understandably tired and the alarm at 4:45 on Day 2 was not the most welcome sound! Still, I managed a good breakfast and was away by 6:15am. The cloud was still down and the section over Cnicht and the Moelwyns was very tricky and I made a few minor navigational errors (I wasn't alone in this) but found my way out of the bottom of the cloud…although I did take a detour onto a cliff at one point with another runner—we both ended up cursing loudly and were not sure whether to go up or down! Somehow we found a way. It was as we ran down towards the valley and the village of Maentwrog that my stomach started to play up, just as the day was getting warmer too. I began to struggle to eat but was still moving ok. Marcus Scotney (the eventual winner) came flying past around this time—it is amazing the pace those guys can keep up, still they do end up being out for half as much time as the slowest competitors so they do get a longer rest! I had a good run down to the midway support point but still couldn't eat well. The day was really warming up by now and I laboured my way up the Roman Steps and into the Rhinogs. This was a tough few hours, amazing views but very hot and rough underfoot with some serious ascent. I was alone for much of this half of the day—others that I saw were generally moving quicker and so passed me. I eventually got onto the descent and dropped down into forestry and roads that seemed to take forever to get to the campsite. I was pretty empty and feeling very nauseous. I washed in the river before dinner but I struggled to eat much and went to bed feeling pretty rung out, my right ankle and knee were beginning to play up too.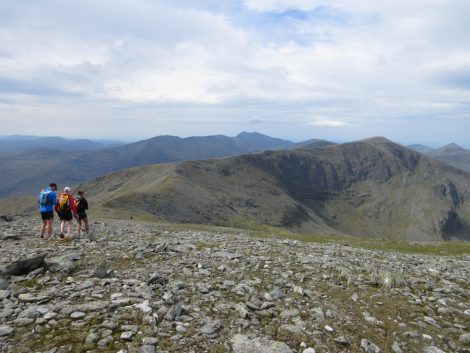 Day 3 was another 4:45am alarm call and I was really not happy to be getting up but somehow I managed it and attempted a light breakfast with minor success. Away again at about 6:15am and after an up and a down into Dolgellau it was up, up, up towards Cadair Idris. The day was humid but cloudy and I really struggled on the climb, most people passing me. Military jets thundered around in their playground above us adding to the air of foreboding created by the swirling cloud and my mental state. I was struggling to drink or eat anything by now (managing the odd square of Kendal mint cake) and I struggled on over the summit and along Cadair's long, long ridge and down into a section of mandatory route through valleys of lush farmland and hedgerow flowers. By the time I reached the last road before a 20km section through the Tarrens I was utterly empty and by now demoralised as I was falling behind the time cut-offs at the checkpoints. I knew the section from here as I had used it in training and I think this familiarity fed my low morale as I knew what was coming. I called my wife and told her I couldn't go on. I convinced myself that this decision was for others (i.e. I could have been a safety concern and needed rescuing) as well as myself but now with hindsight I do wonder what would have happened if I had pushed on? Another runner did try to encourage me on but I was just not having it. It is difficult now to remember just how empty I was. I think that even if I had got through to the support point at Machynlleth I would have had little or no time to recover before being timed out and then would have been faced with a further 25km and the climb over Plynlimon before camp, all in high 20s temperatures. I was very disappointed but accepting. I managed to get a lift to Machynlleth from a couple who were out cheering the race on (they took two other retired runners too). Once in town my appetite returned immediately at the sight of 'real' food and so began my recovery! We retirees lazed in the sun before a lift to overnight camp. I decided then and there to do a half day the next day and the whole of Day 5.
I still had to wake fairly early on Day 4 as the organisers needed us ready and breakfasted by 7:30am so that they could work out logistics for where people wanted to go. Some retirees wanted to go home, some straight to the overnight camp and others, like me, to the midway support point to do a half day. I was eventually dropped at Elan Village (by the reservoir where Birmingham's water supply comes from) and was allowed to start at 10:30am. I was a bit lethargic to start with as it was a very hot day but with some lovely grassy paths to run on I found my pace. I was fairly near the pointy end of the race as there were only a couple of other half day runners ahead of me and somewhere here I was overtaken by Jim Mann (eventual runner-up) taking a sneaky line up an adjacent ridge. By the high point of the afternoon (Dragyn Fawr) I had overtaken the other half-dayers and was moving fairly comfortably (albeit employing a fast walk) along the road sections and over a pass to the final valley and road section in the delightful Towy valley . Another day of glorious weather with lots of soaking of my hat in streams to cool my head. I arrived at the campsite just after 4pm and was the second person to finish that day (I did though have a massive head start and had only done a half day!). I washed in the river and ate several plates of chips before heading to a wonderfully placed pub for more refuelling. This all seems to have really helped my stomach but I was still a little wary of the next day as at 63km it was no walk in the park (my two part days were both 71km and this fact may have added to my mental unease and retirement from the full race as that distance was further than I had ever gone ina  day).
Day 5 and another 4:45am alarm, a little better organised today and I was off at 6:02. A stunning morning and already warm the views were fabulous, a real pleasure to be out and about. Over some lumpy bits and through farmland and after about two hours we passed through Llandovery. I bought a couple of bottles of drink, a doughnut and a sandwich and was on my way again, drinking the bottles and eating the doughnut as I went but saving the sandwich to eat at the support point. Through more beautiful lanes and the beginnings of the moorland at the foot of the Black Mountain to the support point at the Usk reservoir. We were rewarded with a choc ice and I ate my sandwich and changed my socks. Each support point I managed a turn around time of about 25minutes, not quick but certainly not the slowest. From the support point we continued climbing, through forestry at first, up towards the foot of the Black Mountain. Runners/walkers were spread out across the landscape all trying to find the best line! I took it easy up the steepest part of the climb and felt pretty comfortable with my effort. From here it was up and down and up and down (repeat to fade) along the ridge. In places I used some tip-offs I had been given by a fellow competitor and at others I used my nose to try and find a good line along the rocky ridges and through the pathless moor—all carried out with a stunning backdrop of South Wales countryside in late spring conditions. I was certainly holding my position here and think a lot of competitors struggled. Undoubtedly it was on sections like this (and Day 1) where my mountain walking experience gave me an edge over the purer runners (I was also surprised how very poor some competitors were at navigation!). Really hot by now but one of the checkpoints was in a car park that happened to have an ice cream van parked up so more cold drinks and a couple of ice lollies helped progress. Finally off the end of the ridge and down into farmland around Carreg Cennen Castle (and another cold drink from their refreshment shop). I was feeling pretty tired by the time I reached the last stretch of road (nearly all downhill) about 3km before the finish but Carol Morgan (the eventual ladies winner) encouraged me on. I did my best to keep up with her but she kept up the same pace on the flat as downhill and she soon disappeared into the distance. I was really pleased to have finished the day in a couple of minutes over 10hours.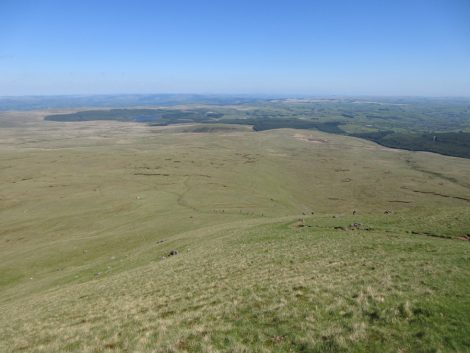 All in all it was an amazing experience and I am very keen to put the lessons (mainly this is sort out eating (the food I had was good for one day but not consecutive days) and do some slightly longer runs so as not to be daunted by the 71km days) I learned to use and go back in 2019 to complete the race (as it was I completed about 235km of the 316km of the total…I will also see what other ultra events take my fancy…watch this space!). The whole event was very professionally run and the staff were supremely friendly and helpful despite their long days (they weren't allowed to take days off). The weather mostly helped although the heat could have caused me more problems if I had been out for the full days on Days 3 & 4 and it was a shame to miss out on the big views from Snowdon on Day 1 because of cloud. Apart from the feeding problem my body held up well, I did let my feet go on Day 5 (knowing I didn't have to run the next day) but they were generally fine apart from a minor blister on one of my little toes. My right ankle/foot caused a little trouble on Day 1 but cold water, painkillers and sleeping with it slightly elevated sorted it out overnight.
If this sort of thing takes your fancy you can find out more at http://www.berghausdragonsbackrace.com Equally, I would be more than happy to bore you with more details of my experience…just ask!