Lesley Pymm reports: The last time I ran the Darrens was a few years ago, and at that time they bussed the runners out half way up the hill so that we started with a hard climb. Now we had to run all the way!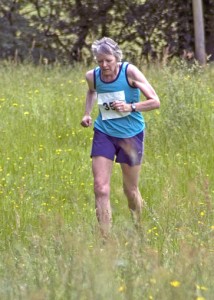 We all stood in Longtown Village looking over at the ridge, the paths we were to run along to climb it and to descend and the distance between us and that ridge. We were warned in the briefing that it was a bit wet out there, but we are fell runners so off we went. Just before we started I saw Stuart Mugridge, so it was good to know there was another from BvH there.
We headed off downhill over wet fields towards the stile we had been warned of. The faster runners seemed to be making it a mission to get there as soon as possible. For the rest of us it was quite good to get a little rest in the queue for the stile. We carried on down and over a stream before starting the long climb uphill. It was round about here (and about 25 minutes in) that I recognised the course and realised that I had now run the bit we had driven previously!) After a while it got much more rugged and as I was looking at the ground to be sure of my footing I saw a couple of very small mouse like creatures run in front of me.
One of the Mountain Rescue marshals asked if I was enjoying it and I told her I would in retrospect! We went on and on, up and up. The views were amazing. Eventually we got to the top of the hard climb and there was a little more uphill over boggy moorland before turning left and onto the ridge.
I tried to get my legs to work properly and to run, but it was not easy. Eventually they responded and I managed to speed up a bit along the top of Offas Dyke. It was reasonably good running with a few boggy bits. Passed the trigpoint where there were some more from the Mountain Rescue taking numbers. That must have been about half way. Then more of the ridge before turning left and starting the decent.
This was the bit I had worried about as my mind had remembered it as being very difficult going down. Although the first few meters were, it did widen out and was easier to run on most of the time although care had to be taken. After all the other runs I had done in the week, my knees were complaining on the downhill and I could hear two women behind me as they got closer.
There was nothing I could do, I could not go faster downhill. They came past and were careering down the hill, one of them slipped over but was soon up and off again. I just tried to keep as close to them as I could. We ran over farmland and then through a farmyard. I knew we were nearly home. Then there was the cruellest part of all – a very steep set of steps before the short uphill finish. I thought I would never make it but eventually stumbled over the line to cheers from other runners.
Stuart had done really well and finished in 27th place in 58.08 it was apparently a new experience for him doing fells. I did not see him at the end as he had gone off to find his family at Open Farm Sunday! I came 68th in 1.23.56.
This is a really friendly event and the cakes afterwards were great (and free for runners although you could make a donation). There were children's events too which were very well organised I am told. I am not really sure of the distance and would be interested Stuart if you were wearing a GPS!